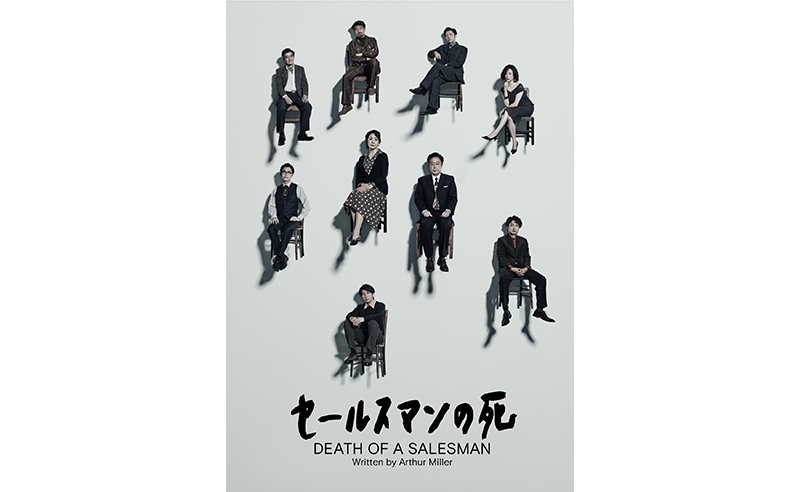 Theater / dance
Performed at KAAT "Salesman's Death" Appreciation tickets hit 3 pairs of 6 people!
While constantly continuing the performance of the new work, he also worked on theater units Asagaya Spiders, which he himself presided, activities on modern plays such as Miyoshi Jiro and Harold Pinter in creative group Katsuraga thinkshi, creation of dramatic works for children Keiji Nagatsuka, director who plays the next generation of theater theater in Japan, continuing his ambitious activities as a playwright and director. In November 2018, Nagaoka's work on the second work of KAAT Produce work following "Six people 's characters searching for authors" (2017) is Arthur Miller's work "Death of a salesman". This work depicts the last two days leading to the death of the leading character, Willy Roman, in 1949, won the New York Theater Award, the Pulitza Prize, established the position of Arthur Miller, together with Tennessee Williams, as the flag hand of American contemporary theater That's his representative work. A book that sharply got the shadow of American society that became conspicuous after World War II such as a problem of competitive society, a discontinuation of parent and child, a collapse of family, frustration of youth, etc. that can also be communicated with contemporary Japan and families I ask the audience living the present age in 2018, Nagatsuka directed production which passed over half a century since the presentation.
Kazama Tusuo, who continues to run as the leading performer actor in the leading line of the stage and image for over 40 years in the main character Willy Roman. That wife Linda Roman, Nagisa Katahira who plays an active part in the video and the stage. Keiya Yamanouchi who plays the hero's eldest son Bifu shows his unique presence in the theater and images. Happy, the second son of the protagonist, acts by Sugawara Eiji, an individualistic actor indispensable to the stage work of the stage from small theater to musical. To the main character Howard, Asagaya Spider's Date Akatsuki, Bif's friend Bernard is a signboard actor of the theater company "My Mniel", Kei Hiroshi. Father of Bernard and Ryosuke Otani who is astonished in the stage / video with Charlie 's friend, Willie. Elder brother Ben of the hero played last year by "Meridian worshiping" Awa Minabe performance acting with the presence in gravity is also performed by memory-oriented skillful actor Murata Yuhiro. Under Keisuke Nagatsuka who leads the Japanese theater world, please expect "death of salesman" where individuality-rich skillist casts gather!
KAAT Kanagawa Arts Theater Produce
trong> "Death of a salesman"
[Date and time] November 3 (Sat) – November 18 (Sunday)
11/3 (Saturday · Public Holiday) · 4 (Sunday) 17: 00 Preview Performance
11/7 (Wednesday) 19: 00
11/8 (Thu) 14: 00 ◎
Friday, November 9, 19:00
11/10 (Saturday) 14: 00
11/11 (Sun) 14: 00 ◎
11/14 (Wed) 19: 00
11/15 (Thu) 14: 00
11/16 (Friday) 19: 00
11/17 (Sat) 14: 00
11/18 (Sunday) 14: 00
◎ There is a baby-selling service at times. Reservations required for payment by weeks before the performance. (Mothers / TEL: 0120-788-222)
[Venue] KAAT Kanagawa Arts Theater Hall
[Day off] November 12 (Monday), 13 (Tue)
[Work] Arthur Miller
[Translation] Sekiga Sekiga
[Director] Keisuke Nagatsuka
[Cast] Kazama Tsuyoshi, Katahira Nagisa, Yamauchi Keiya, Sugawara Eiji, Date Akira, Kato Hiroshi, Chisun, Kaji Maki, Kiki Miaki, Kikuchi Aiaki, Kawazoe Ai, Aoya Yui, Otani Ryosuke, Murata Yuhiro
[Fare] (All seats specified) Preview performance ¥ 5,500, S seat ¥ 8,500, A seat ¥ 6,000,
U24 ticket (24 years old or younger) ¥ 3,000, discount for high school students or less (for high school students or less) ¥ 1,000,
Silver discount (over 65 years old) ¥ 8,000
[Organizer] KAAT Kanagawa Arts Theater
[Ticket sales]
■ Ticket Kanagawa http://www.kanagawa-arts.or.jp/tc/
TEL: 0570-015-415 <Reception time 10: 00-18: 00>)
■ Ticket Pia http://pia.jp/t/kaat/ TEL: 0570-02-9999 (P code: 487-845)
■ Eples / "> http://eplus.jp/kaat/ (PC / Mobile)
■ Lawson Ticket http://l-tike.com/play/kaat/ TEL: 0570-084-003 (L Code: 33315), 0570-000-405 (Operator Supported 10: 00 ~ 20: 00)
■ Cafferty http://confetti-web.com
TEL: 0120-240-540 (Operator supported weekdays from 10: 00 to 18: 00)
[TEL] 0570-015-415 (Ticket Kanagawa)
※ U24, high school student or less, Silver discounts are handled at the telephone / window at the ticket Kanagawa from 7/29 (advance sales only, limited number of sheets).
※ Please refrain from entering preschool children.
※ Forbiddance of resale for profit.
* Customers planning to come by wheelchair, please contact us in advance to purchase tickets Kanagawa 0570-015-415 (10: 00 ~ 18: 00) before purchasing.
***********************************
【Outline of application】
KAAT Stage being performed at the Kanagawa Arts Theater KAAT Kanagawa Arts Theater Produce "Death of Salesman", November 16 (Fri) at 19:00 will be presented to 3 pairs of 6 people for viewing tickets.
【Application method】
If you would like to have a presentation ticket gift, please respond to the questionnaire from the application form below and apply. We are waiting for your entries.
【Application deadline】
0; "> November 9th (Friday) until 24:00
【Lottery · Winning Announcement】
We will notify the winner by e-mail, so please note spam settings etc. Mail will be informed from the Magcart · Dot · Net Management Office (info.magcul@gmail.com).
We will replace the winning announcement with winning contact with the above e-mail. On the performance day, please present a winning notice e-mail at the "KAAT Kanagawa Art Theater Hall" window at the venue. We will give you a ticket from the staff.
* We do not use personal information we have at all for purposes other than lottery.