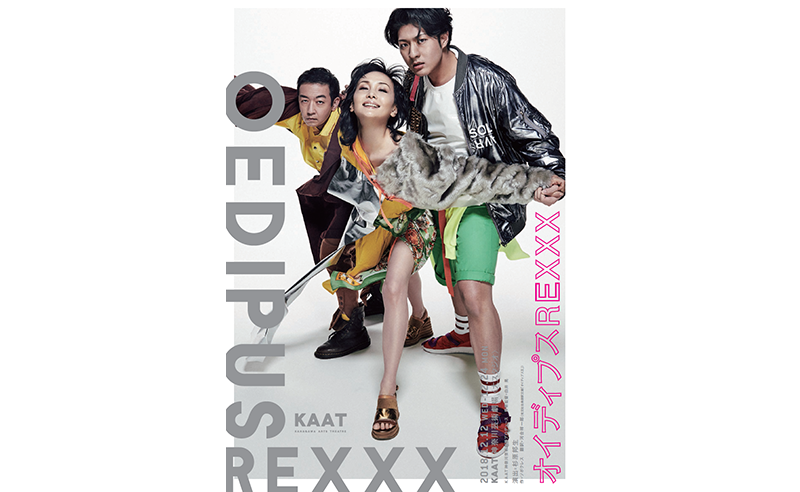 Theater / dance
The stage "Oedipus REXXX" viewing tickets for a total of 10 pairs to 20 people!
In December 2018, at the KAAT Kanagawa Arts Theater, we will perform the stage "Oedipus REXXX". A masterpiece of Greek tragedy "King Oedipus" that killed his father and drew until his young king who became a mother and couple of his own birth rolled down the road to ruin, Nakamura Hashinosuke, Minoru Kobo, Miyazaki Dreaming Cast will be welcomed and young director Kunio Sugihara will perform in a new way.
The title role oedipus is played by a father who holds Nakamura Shibaki in the eighth generation, a kabuki actor who called a topic even in the same parent name and child name in 2016, Hashinosuke Nakamura 4th generation. This time is the first time to be on the stage of plays other than kabuki works. It is my wife and mother · iocaste of Odeipus who plays an active part in the world of images and the stage with certain performance skills, southbu walking which will be the stage appearance for the first time in two years. Their first collaboration is where the couple plays a complex relationship that is a mother and child. And, Miyazaki Dreamer who belongs to popular theater company · adult program presided by Matsuo Suzuki and who appeared in numerous works as name by players plays CLEON (younger brother of iokaste which plays south) and others.
KAAT Kanagawa Arts Theater Produce
Oedipus REXXX
[Date and time] 12th December (Wednesday) to 24th (Monday)
12/12 (Wed) 19: 00
12/13 (Thu) 14: 00
Friday, December 14, 19:00
12/15 (Sat) 14: 00 ◎
12/16 (Sun) 14: 00
December 17 (Monday) 14:00
12/18 (Tue) 19: 00
12/19 (Wednesday) Holiday Day
12/20 (Thu) 14: 00 ◎
12/21 (Friday) 19: 00
12/22 (Sat) 14: 00
12/23 (Sun) 14: 00
12/24 (Monday) 14: 00/19: 00
There is after talk at the mark of the sign.
◎ There is a baby-selling service at times. Reservations required for payment by weeks before the performance. (Mothers / TEL: 0120-788-222)
[Venue] KAAT Kanagawa Art Theater Large Studio
[Work] Sopocles
[Translation] Shoichiro Kawai ("Oedipus King" Kobunsha Classical Newspaper Library)
[Director] Kunio Sugihara
[Cast] Hashinosuke Nakamura, Minoru Kobo, Miyazakidream,
Shotaro Okubo, Yuta Yamaguchi, Akihiko Hakota, Akihisa Shinnami, Daisuke Yamamori, Masaru Tanaka
[After Talk Guest]
Shoichiro Kawai (Translator · "King Oedipus" Koenbunsha classical newspaper translation) × Akira Shirai (Director · Artistic Director of KAAT Kanagawa Arts Theater) × Kanao Sugihara
12/17 (Monday) after the performance Yuichi Kinoshita (presided by Kinoshita Kabuki) × Kunio Sugihara
12/20 (Thursday) After the concert Nakamura Hashinosuke, others
[Rate] (All seats specified) General ¥ 6,500, under 24 years old ¥ 3,250, under high school student ¥ 1,000, silver (over 65 years old) ¥ 6,000
[Organizer] KAAT Kanagawa Arts Theater
[Ticket sales]
■ Ticket Kanagawa http://www.kanagawa-arts.or.jp/tc/
TEL: 0570-015-415 <Reception time 10: 00 ~ 18: 00>)
■ Ticket Pia http://pia.jp/t/kaat/ TEL: 0570-02-9999 (P code: 488-447)
■ Euras http://eplus.jp/kaat/ (PC · Mobile)
■ Lawson ticket http://l-tike.com/play/kaat/ TEL: 0570-084-003 (L code: 32654), 0570-000-405 (Operator pairResponse from 10: 00 to 20: 00)
■ Cafferty http://confetti-web.com TEL: 0120-240-540 (Operator supported weekdays from 10: 00 to 18: 00)
[TEL] 0570-015-415 (Ticket Kanagawa)
※ Under 24 years old, below high school students, Silver discounts are handled at the telephone / window at the ticket Kanagawa (advance sales only, limited number of sheets).
※ Please refrain from entering preschool children.
※ Forbiddance of resale for profit.
※ Admission after the opening time can not guide to the designated seat.
* Customers planning to come by wheelchair, please contact us in advance to purchase tickets Kanagawa 0570-015-415 (10: 00 ~ 18: 00) before purchasing. When there is no contact in advance, we may refuse admission.
***********************************
【Outline of application】
KAAT Stage being performed at Kanagawa Arts Theater KAAT Kanagawa Arts Theater Produce "Oedipus REXXX" appreciation tickets will be presented to 2 pairs of 4 people per schedule below.
■ Wednesday, December 12 (Wednesday) 19: 00 ~ 2 pairs 4 people
■ December 13 (Thur) 14: 00 ~ 2 pairs 4 people
■ December 14 (Fri) 19: 00 ~ 2 pairs for 4 people
■ December 15 (Sat) 14: 00 ~ 2 pairs 4 people
■ December 18 (Tue) 19: 00 ~ 2 pairs for 4 people
※ For this performance, due to the special shape of the audience seating, the seat may be left even if you apply for two people. Please note.
【Application method】
If you would like to have a presentation ticket gift, please respond to the questionnaire from the application form below and apply. We are waiting for your entries.
【Application deadline】
Until 18:00 on Friday, December 7th 【Lottery · Winning Announcement】
Please note that the winner will be notified by e-mail, so please check spam settings etc. Mail will be informed from the Magcart · Dot · Net Management Office (info.magcul@gmail.com).
We will replace the winning announcement with winning contact with the above e-mail. On the performance day, please present a winning notice e-mail at the "KAAT Kanagawa Art Theater Hall" window at the venue. We will give you a ticket from the staff.
* We do not use personal information we have at all for purposes other than lottery.
The application has been terminated. Thank you very much for your application.