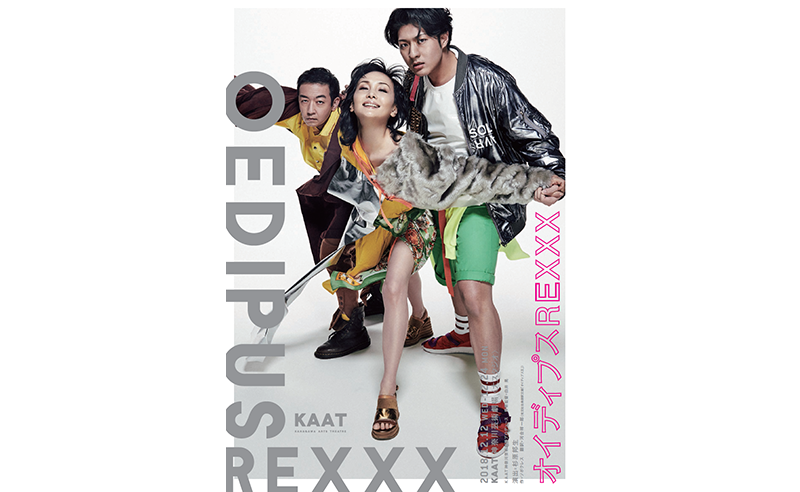 Theater and dance
2018.12.03
Stage "Oedipus REXXX" Appreciation ticket for a total of 10 sets for 20 people!
In December 2018, KAAT Kanagawa Arts Theater will perform the stage "Oedips REXXX". A masterpiece of the Greek tragedy, King Oedipus, depicting a young king, who killed his father and became a mother and husband of his own birth, rolled down the road to ruin, Nakamura Hashinosuke, Minami Kaho, Miyazaki Yomu, etc. The young director, Kunio Sugihara, will perform in a new perspective with the cast.
The title role of Oedipus is played by Kabuki actor Yosuke Nakamura Hanosuke, who has a father in the 8th generation Nakamura Shiba Akira, and has attracted attention in the same year as a parent-child simultaneous attack name in 2016. This is the first time to stand on the stage of a theater other than Kabuki. The wife of Oedipus and his mother, Iocaste, are active in the world of film and stage with a certain acting ability, and this is the first stage appearance for the first time in two years. The highlight is how the two first-time performers perform complex relationships that are couples and mothers and children. Then, Miyamu Umemu, who belongs to the popular theater company / adult plan of Suzuki Matsuo presiding and appears in numerous works as a great by player, plays Cléon (the younger brother of Iocaste who plays south) and others.
Produced by KAAT Kanagawa Arts Theater
Oedipus REXXX
[Date] December 12 (Wed)-24 (Mon)
12/12 (Wed) 19:00
December 13 (Thu) 14:00
12/14 (Fri) 19:00
12/15 (Sat) 14:00 ◎
12/16 (Sun) 14:00
December 17 (Mon) 14:00
December 18 (Tue) 19:00
December 19 (Wed) Closed day
12/20 (Thu) 14:00 ◎
December 21 (Fri) 19:00
December 22 (Sat) 14:00
December 23 (Sun) 14:00
December 24 (Mon) 14:00 / 19:00
There is an after talk after the mark.
There is a childcare service for the times marked 印. Reservations and charges are required up to one week before the show. (Mothers / TEL: 0120-788-222)
[Venue] KAAT Kanagawa Art Theater Large Studio
[Product] sopocles
[Translation] Kawai Shoichiro ("Oedipus King" Kobunsha Classic New Translation Bunko)
[Direction] Sugihara Kunio
[Cast] Nakamura Hanosuke, Minami Kaho, Miyazaki vomitdream,
Okubo Shotaro, Yamaguchi Kota, Hakoda Atsushi, Niina Motohiro, Yamamori Daisuke, Tachiwanna true large
[After Talk Guest]
12/14 (Fri) after the performance Shoichiro Kawai (translator, "Oedipus king" Kobunsha classics new translation paperback translation) × Akira Shirai (director · KAAT Kanagawa Arts Theater artistic director) × Kunihiro Sugihara
12/17 (Mon) after the performance Yuichi Kinoshita (Kinoshita Kabuki master) × Sugihara Kunio
12/20 (Thu) After the performance Nakamura Hanosuke, others
[Fee] (all seats specified) General ¥ 6,500, ¥ 24 less than 24 years old ¥ 3,250 or less high school students ¥ 1,000, Silver (full age 65 or more) ¥ 6,000
[Organizer] KAAT Kanagawa Arts Theater
[Ticket sale]
■ Ticket Kanagawa http://www.kanagawa-arts.or.jp/tc/
TEL: 0570-015-415 <reception time 10:00 to 18:00>)
■ Ticket Pia http://pia.jp/t/kaat/ TEL: 0570-02-9999 (P code: 488-447)
■ e plus http://eplus.jp/kaat/ (PC, mobile)
■ Lawson tickets http://l-tike.com/play/kaat/ TEL: 0570-084-003 (L code: 32654), 0570-000-405 (operator pair10: 00-20: 00)
■ Canfestity http://confetti-web.com TEL: 0120-240-540 (Operators' correspondence weekdays 10:00 to 18:00)
[TEL] 0570-015-415 (Ticket Kanagawa)
※ 24 years old or less, high school student or less, silver discount is handled by telephone, window of ticket Kanagawa (only advance sale, quantity limited).
※ Please refrain from admission for preschoolers.
※ No commercial resale.
※ We can not guide you to the designated seat after the opening time.
※ If you are planning to visit with a wheelchair, please inquire at the ticket kanagawa 0570-015-415 (10: 00-18: 00) before purchasing. If you do not contact us in advance, you may be denied admission.
****************************************
Application of present was finished. Thank you for many applications.
【Application Summary】
We will present 2 sets of 4 people with tickets for the show KAAT Kanagawa Arts Theater produce "Oedips REXXX", which is currently being performed at the KAAT Kanagawa Arts Theater.
■ December 12th (Wed) 19:00 2 2 groups 4 people
■ December 13th (Thu) 14: 00- 2 sets of 4 people
■ December 14th (Fri) 19: 00〜 2 groups 4 people
■ December 15th (Sat) 14: 00〜 2 sets of 4 people
■ December 18th (Tuesday) 19: 00〜 2 groups 4 people
※ This performance is a special shaped seat, so even if you sign up with two people, your seat may be missed. Please note.
【Application method】
For those who wish to receive a ticket for a viewing ticket, please apply for a questionnaire after answering the questionnaire from the application form below. We look forward to your application.
Until December 7 (Fri) 18:00
[Lottery, winning announcement]
Winners will be notified by email, so be careful about spam settings etc. E-mail will be sent from Magcal.Dot Internet Management Office (info.magcul@gmail.com).
Announcement of winning will be replaced by notification of winning in the above email. On the day of the performance, please present a winning notification email at the KAAT Kanagawa Arts Theater Hall window. The staff will give you a ticket.
※ We will not use your personal information for any purpose other than lottery.
KAAT Kanagawa Arts Theater

A facility dedicated to performing arts such as theater, musicals and dance. We invite actor / director Mr. Kei Shirai to the artistic director and create and transmit excellent performing arts works such as theater, musicals and dance.

(Exterior photo) © Mori Hideo

Shop / Place name

KAAT Kanagawa Arts Theater

Address

Yamashitacho, Naka Ward, Yokohama-shi, Kanagawa Prefecture 281

TEL

045-633-6500

Map