What kind of place is the performing arts theater "KAAT"? (1/2)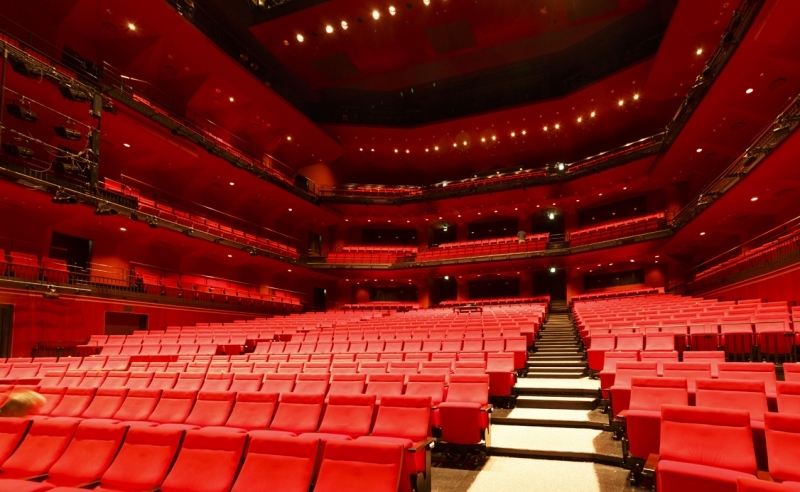 Infiltrate an art space!
YOKOHAMA ART SPOT FILE
A place for people who love performing arts
KAAT
Kanagawa Arts Theater

About 5 minutes on foot from Nihon Odori Station on the Minatomirai Line. Known by the nickname "KAAT," this is a performing arts theater that represents Kanagawa Prefecture. As soon as you enter the hall, this atrium entrance will appear in front of you.
An escalator is installed to go around the entrance of this 30-meter high atrium, and if you go up, you will arrive at the 5th floor main lobby.
This is the main lobby on the 5th floor. The large glass window is covered with white fabric, and this lace-like pattern is said to have been created in the image of a cocoon from Yokohama, a city that prospered through the silk trade. When more sunlight comes in, you can enjoy a beautiful installation of shadows projected onto the floor and walls. Unfortunately, it was cloudy on the day of our infiltration.
And the floor of the lobby is also ingenious!
The carpet also has a cocoon-inspired line drawn on it, just like the glass windows. It takes time to feel the set temperature, so I dared to put the air conditioning outlet down. This keeps the theater cool in the summer and warm in the winter, allowing us to welcome visitors to the theater at a comfortable temperature.
Now, let's dive further inside. This time, I decided to take a peek at the hall that will be the main venue of "KAAT". If it is the day of the performance, show your ticket in the lobby and enter. On the way to the hall, there is a cloakroom, which is indispensable for the theater, and it is possible to temporarily store people with a lot of luggage and winter coats here.
Apart from the cloakroom, coin lockers are also available. It's 100 yen once, but you'll get the 100 yen back after using the coin-back system. glad~.
And the time until the start of the performance is in the foyer, a calm space with indirect lighting.
If you arrive early, you can carefully read the pamphlet of the performance, have a chat, and look at the people. Those who rush to the theater after work will definitely be able to spend a relaxing and comfortable time. Have a relaxing time here until the start of the performance.
Just in case, I checked the restroom too! Here it is!
It is a very stylish space that uses KAAT's image colors of black and red. The plate attached to the top of the door is devised so that you can see at a glance whether it is in use. The sign of concern for such customers is also coolly designed.
After finishing the toilet check, which is a must for a long performance, this time ends here. Now, let's sneak into the main hall next time!