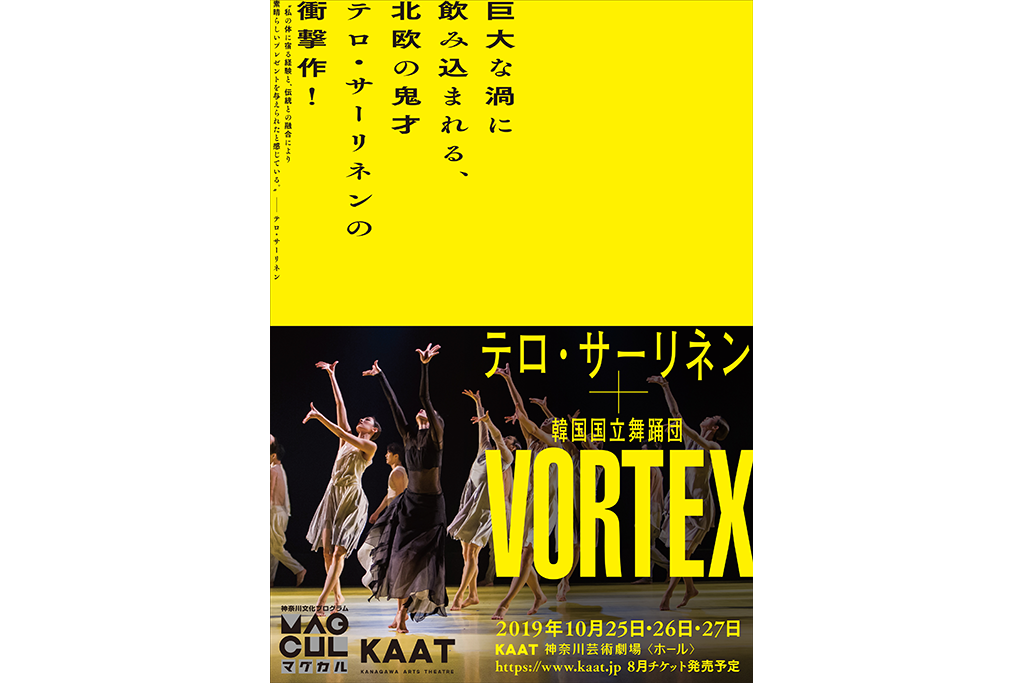 Theater / dance
2019.08.07
A shocking work of the Nordic genius Terror Saarinen, swallowed by a huge whirlpool!
KAAT Kanagawa Arts Theater 
(Please note that this page was created using Google's automatic translation service and understand that because of this, its translation may not necessarily be accurate.)
"VORTEX" is a masterpiece that was choreographed by Finland's most prominent choreographer Tero Saarinen at the request of the Korean National Dance Company and premiered in Seoul in 2014. This is a unique opportunity for Terrorist Saarinen, who has always been interested in the body of Asia, and has been performed in various places such as the Cannes Festival, Paris (Chaiyo Palace Theater), and New York since its premiere. Terror Saarinen has given this work the title "VORTEX". The cultures and traditions of Scandinavia and South Korea meet and are combined, the primitive identity of the dancers is stimulated, and sometimes they are caught in a whirlpool and renewed with the image that their cultures collide violently. I succeeded in deriving physical expression.
"I am always fascinated by the ritualistic nature of dance.
By the fusion of the traditions and experiences that live in my body and the Korean traditions
I feel that I have been given a wonderful gift. "
-Tero Saarinen
What is noteworthy in this performance is that Tero Saarinen challenges the Korean National Dance Company, which specializes in traditional dance and music, with contemporary dance techniques, and the tradition of Korean dance is blossoming in modern times with innovative choreography. .. And it is a live performance of the music band "Be-Being" led by Chang Young-kyu, who makes full use of new formats and playing techniques, freed from the conventional playing method, while using the unique formats and materials of Korean traditional music. As the title means "vortex", "VORTEX" is given a powerful choreography that composes the stage with agile movements that change instantly, and a variety of dances that change from solo to duet to group dance. The "vortex" will involve the viewer in thrilling. "VORTEX" is a masterpiece created by the choreography of Tero Saarinen and the Korean National Dance Company, and the invited performance to Kanagawa in the fall of 2019 is a stage that symbolically celebrates the friendship between Korea, Finland and Japan. It will be a suitable work as. With the 2020 Tokyo Olympic and Paralympic Games just around the corner, it is a beautiful dance work that connects the three countries in the midst of excitement.
e = "color: # 008080"> KAAT DANCE SERIES 2019 Tero Saarinen x Korean National Dance Company
"VORTEX"
[Date and time] October 25th (Friday) to 27th (Sunday)
10/25 (Friday) Chartered performance
10/26 (Sat) 15: 00-
10/27 (Sun) 15: 00-
= There is a childcare service. Reservation required and paid at least one week before the performance (Mothers TEL.0120-788-222).
[Venue] KAAT Kanagawa Arts Theater Hall [Fee] (All seats reserved) S seats ¥ 3,500, A seats ¥ 2,000, 24 years old or younger ¥ 1,750, high school students or younger ¥ 1,000, Silver (65 years old or older) ¥ 3,000
* Discounts for children under 24, discounts for high school students and younger, and silver discounts are available only at tickets and Kanagawa telephones and counters (advance sales only, limited number of tickets, ID card).
[Ticket sales]
■ Ticket Kanagawa TEL.0570-015-415 (10: 00-18: 00)
■ Ticket Pia (P code: 496-237) TEL.0570-02-9999
■ Eplus
■color: # 33cccc "href =" https://l-tike.com/play/mevent/?mid=231976 "> Lawson Ticket (L code: 33166) TEL.0570-084-003
[Organizer] Kanagawa Prefecture, KAAT Kanagawa Arts Theater [Inquiries] 0570-015-415 (Ticket Kanagawa / 10: 00-18: 00)
* Please refrain from entering preschool children.
* If you are coming in a wheelchair, please contact the ticket Kanagawa in advance.
* Prohibition of resale for commercial purposes.
Start Day

2019-10-25

End Day

2019-10-28

Address

281 Yamashita-cho, Naka-ku, Yokohama-shi, Kanagawa