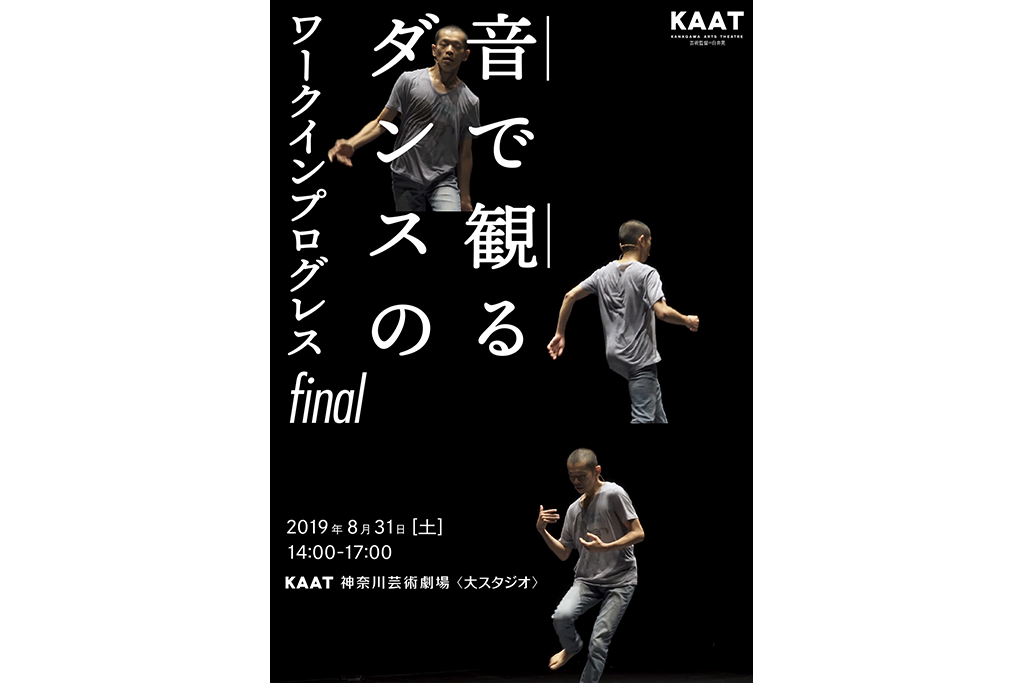 Theater / dance
2019.08.07
The latest version of the project to watch dance with an audio guide !!
KAAT Kanagawa Arts Theater 
(Please note that this page was created using Google's automatic translation service and understand that because of this, its translation may not necessarily be accurate.)
What is watching a dance? Performing a "dance to watch with sound" that started from an audio guide
"Voice guide" that assists visually impaired people with sound. Audio description is a method of replacing visual information with sound to bring out various images in the viewer's head. If such an audio guide were to be attached to the physical expression of dance, what kind of "view" would be born of dance? In this project, we have held workshops and study groups for two years not only to create a situation where more people can enjoy physical expression, but also to explore a better relationship between dance and audio guide beyond the presence or absence of vision. rice field. In this performance, in addition to watching the dance while listening to the audio guides that have been created so far, the "dance to watch with sound" created through these processes will be performed as a summary for three years. ..
* You can see the process of the project so far and the audio guides that have been created on the special site.
* Dance performances by audio guides made in the past two years, talks looking back on the development of the two years, and this year's "Dance to watch with sound" performance will be held in that order.
Produced by KAAT Kanagawa Arts Theater
"Work-in-progress of dance seen by sound" final
[Date and time] Saturday, August 31st, 14: 00-17: 00
[Venue] KAAT Kanagawa Arts Theater Large Studio [Dance appearance] Neji Pijin (dancer)
[Text] Sayaka Osaki (poet)
[Reading] Zan Yamashita (dancer)
[Talk appearance] Pijin Neji, Kiyonatsu Osaki, Hiromichi Hosoma (Professor, Faculty of Culture, Media and Society, Waseda University), Miyuki Tanaka (curator, planning this project)
[Moderator] Yuta Hagiwara (Director, presided over by Kamome Machine)
[Capacity] Elementary school upper grades to university students [Capacity] 120 people (first-come-first-served basis, advance reservation required)
[Participation fee] Free
Hold a touch tour before the performance!
Prioritizing the visually impaired, we will hold a "touch tour" where you can experience the concept of this dance with your body and communicate with dancers before the performance starts.
About 30 minutes, 2 times in total, capacity 10 people (first-come-first-served basis, ① and ② are the same)
<1> 12: 00 ~, <2> 13: 00 ~ * Advance reservation required by email [Reservation method] We accept emails. (Up to 1 person per email. If you have a caregiver, up to 2 people in total.) Please send the following e-mail address with the subject "Voice guide performance application" and fill in the following ① to ⑩. ..
①Name (Frigana) ②Age ③Gender ④Email address (Please set so that you can receive emails from @ kanagawa-af.org) ⑤Telephone number (mobile phone is also acceptable) ⑥Address (to city / ward / town / village) ⑦Visually impaired ⑧ Whether or not a caregiver is accompanied ⑨ Whether or not you would like to participate in the touch tour, times you would like to participate (①12: 00 or ②13:00) ⑩ If you have any other requests or questions to the organizer, please let us know.
[MAIL] oubo@kanagawa-af.org
[Deadline] Monday, August 25
[Organizer] KAAT Kanagawa Arts Theater [Inquiries] 045-633-6500 (KAAT Kanagawa Arts Theater)
* Personal information will not be used for anything other than contacting us regarding this project and providing information on future events.
* Tickets are not available in Kanagawa.
Start Day

2019-08-31

End Day

2019-09-01

Address

281 Yamashita-cho, Naka-ku, Yokohama-shi, Kanagawa