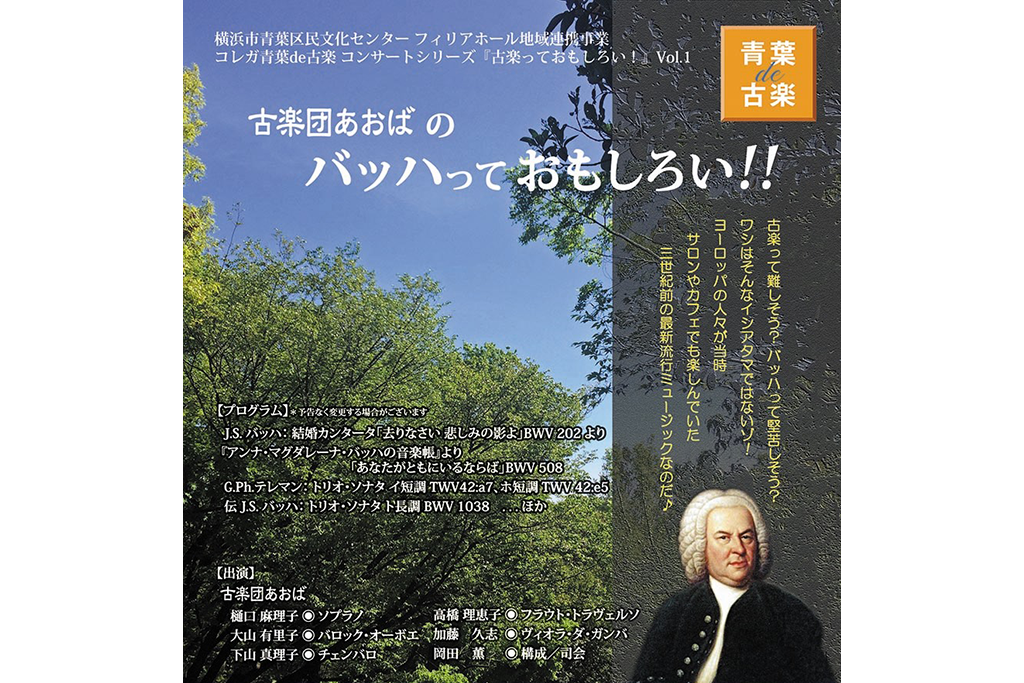 Fun for beginners! Easy to understand! Let's feel the rich sound of ancient instruments in front of you
Yokohama City Aoba Ward Cultural Center Philia Hall 
(Please note that this page was created using Google's automatic translation service and understand that because of this, its translation may not necessarily be accurate.)
Early music and old musical instruments that seem to have various rules and commitments are somewhat difficult to get along with? At a salon-sized venue where you can feel the rich sound of old musical instruments in front of you, we will deliver it with easy-to-understand stories even for beginners of early music.
Early music seems to be difficult? Bach seems to be stiff?
I'm not such an eagle!
Europeans were having fun at salons and cafes at the time
It 's the latest trendy music three centuries ago.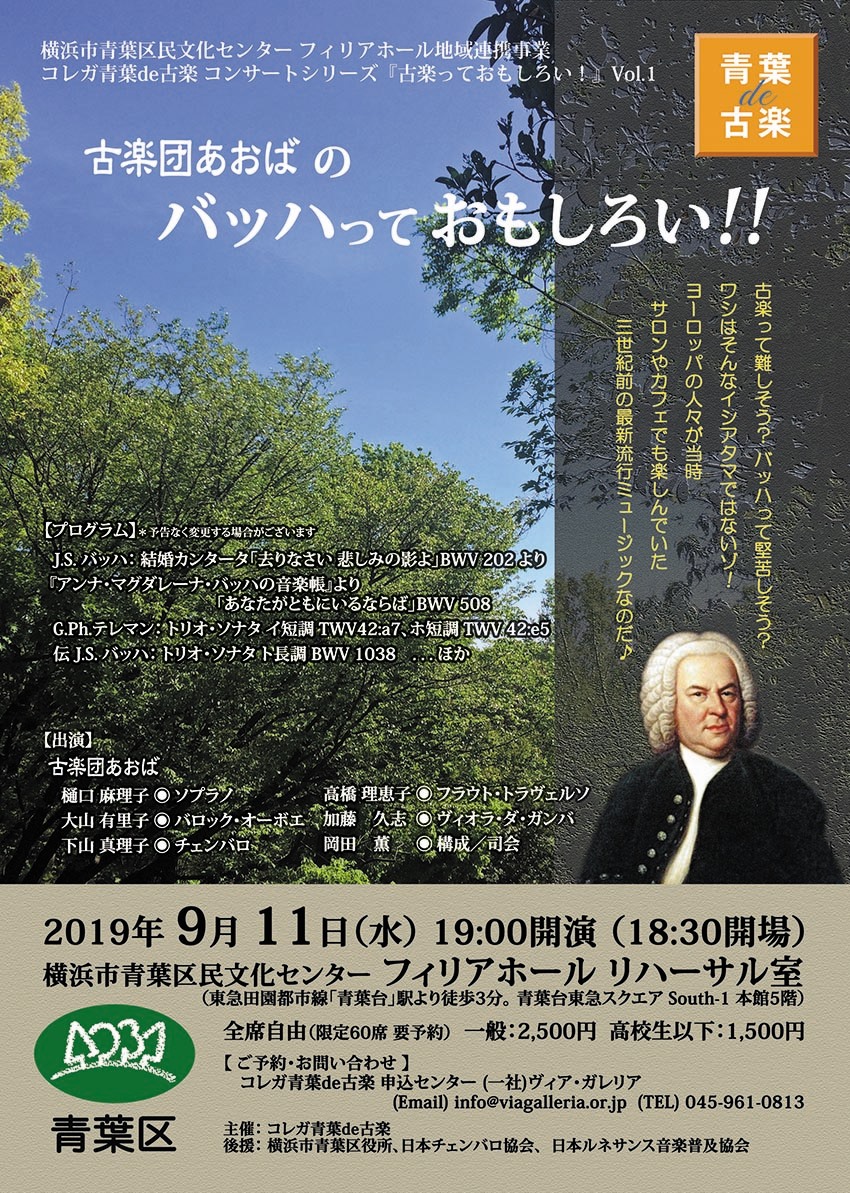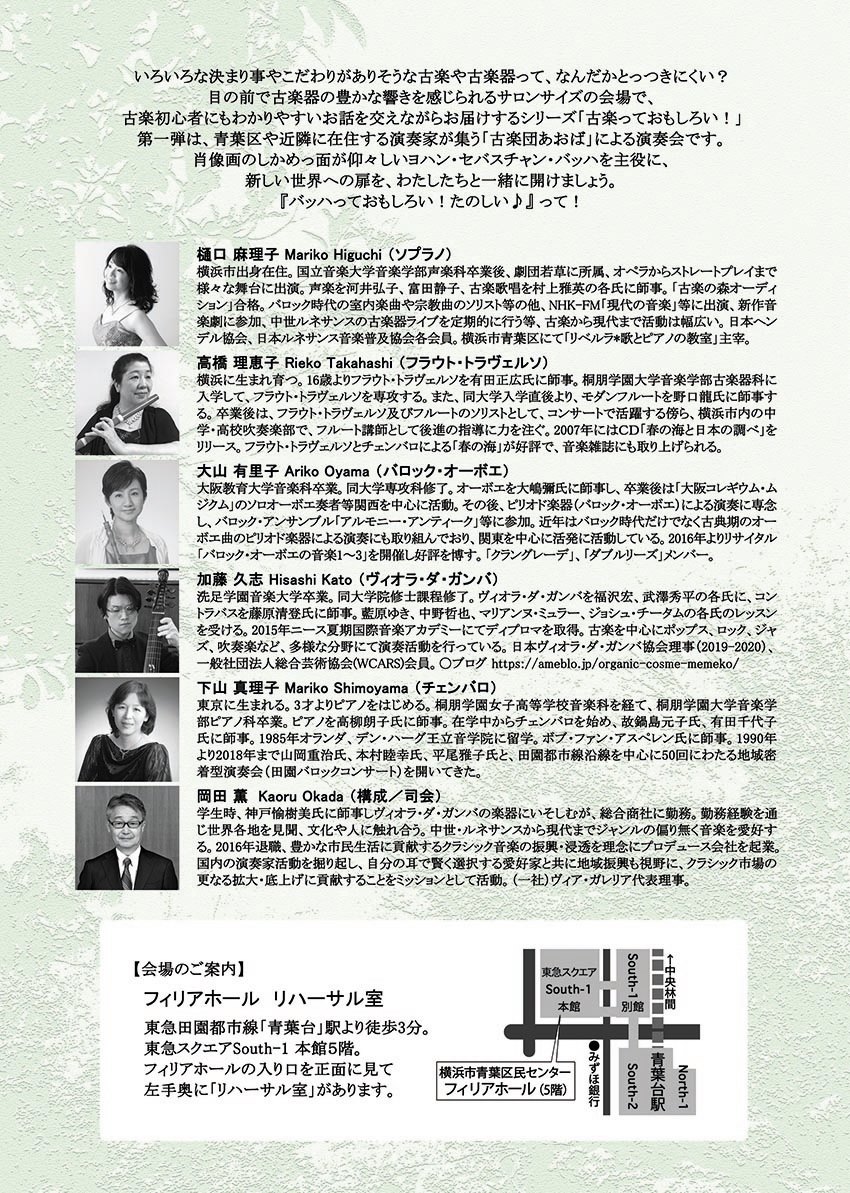 Corega Aoba de Early Music Concert Series "Early Music is Interesting!" Vol.1
Bach of the old orchestra Aoba is interesting! !!
[Date and time] September 11th (Wednesday) 19: 00- (Opening at 18:30)
[Venue] Yokohama City Aoba Ward Cultural Center Philia Hall Rehearsal Room [Cast] <Old Orchestra Aoba> Mariko Higuchi (soprano), Rieko Takahashi (Frout Traverso), Yuriko Oyama (Baroque Oboe), Hisashi Kato (Viola Da)・ Gamba), Mariko Shimoyama (harpsichord), Kaoru Okada (composition / moderator)
[Song] JS Bach: Marriage cantata "Leave, the shadow of sadness" From BWV202 Two arias, "Anna Magdalena Bach's Music Book""If you are with me" BWV508, G.Ph. Telemann: Trio Sonata in A minor TWV42: a7, E minor 42: e5, Den JS Bach: Trio Sonata in G major BWV1038, etc. [Capacity] 60 seats [Fee] ] (All seats free / reservation required) General ¥ 2,500, high school students and younger ¥ 1,500
[Organizer] Corega Aoba de Early Music [Reservation method] Please make a reservation by phone or email.
[TEL] 045-961-0813 (Corega Aoba de Early Music Application Center (one company) Via Galleria)
[MAIL] info@viagalleria.or.jp
Start Day

2019-09-11

End Day

2019-09-12

Address

2-1-1 Aobadai, Aoba-ku, Yokohama-shi, Kanagawa Aobadai Tokyu Square South-1 Main Building 5th floor