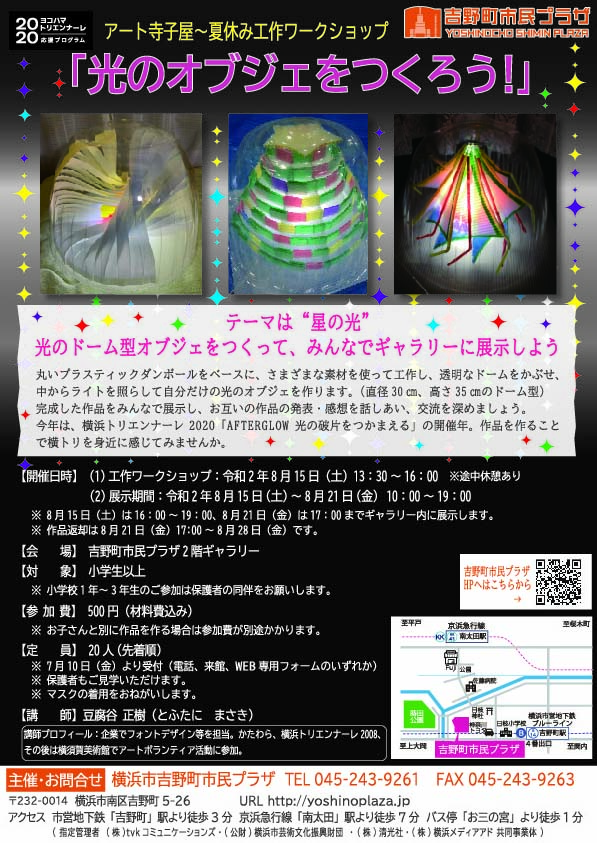 [D] Yoshino-cho Citizen Plaza Art Terakoya-Summer Vacation Workshop "Let's Make Light Objects!"
(Please note that this page was created using Google's automatic translation service and understand that because of this, its translation may not necessarily be accurate.)
Yokohama Triennale 2020 Support Program The theme is "Starlight". Let's make a dome-shaped object of light and display it in the gallery together. Based on a round plastic cardboard, we work with various materials, cover it with a transparent dome, and illuminate the light from inside to create your own light object. make. (Dome shape with a diameter of 30 cm and a height of 35 cm) Let's exhibit the completed works together, discuss each other's work presentations and impressions, and deepen exchanges. This year is the year of the Yokohama Triennale 2020 "AFTER GLOW Catch Fragments of Light". Why don't you feel close to Yokotori by making a work? Lecturer: Masaki Tofutani In charge of font design at a company. On the other hand, he participated in art volunteer activities at the Yokohama Triennale 2008 and then at the Yokosuka Museum of Art. Exhibition period: August 15th (Sat) -August 21st (Fri), 2020 10: 00-19: 00 (1st day 16: 00-, last day-17:00) * For 1st to 3rd grade elementary school students Please be accompanied by a guardian to participate. * Parents can also visit. * Please wear a mask.
Event Date

2020-08-15

Hour

13: 30-16: 00 <br />

Ticket type / Fee

500 yen (including material costs) * Parents can also participate. If you make a work separately from your child, a participation fee will be charged separately.

URL