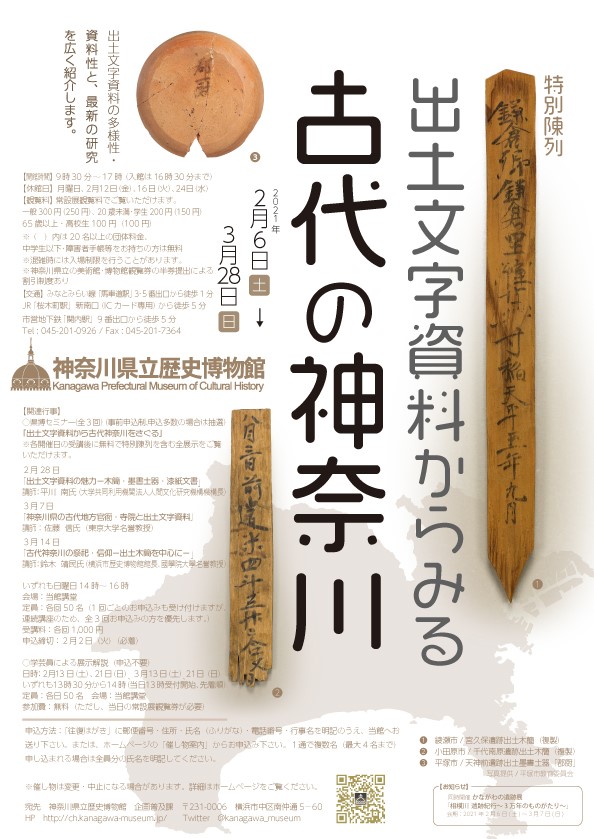 [D] Special display "Ancient Kanagawa seen from excavated text materials"
Kanagawa Prefectural Museum of History 
(Please note that this page was created using Google's automatic translation service and understand that because of this, its translation may not necessarily be accurate.)
As for the aspect of the ancient eastern country, it was difficult to know the concrete society of the land because the literature was scarce and fragmented. Under such circumstances, when excavations associated with development became active in various places after the 1980s, many new text materials that had not been known until then were discovered in the soil. And from these excavated text materials, the aspect of ancient society in the eastern country has gradually become clear. Even in Kanagawa Prefecture, excavation surveys are progressing in municipalities, and many excavated text materials have been obtained. These excavated text materials tell us about the new appearance of ancient Kanagawa, which was unknown before that. Therefore, in this exhibition, we will introduce the achievements at the present time about the aspect of ancient Kanagawa that can be seen from the text materials, focusing on the text materials excavated from the ruins in the prefecture, adding the wooden tablets excavated from Miyakonojo and the literature materials that have been known for a long time. To do.
Start Day

2021-02-06

End Day

2021-03-28

Hour

9: 30-17: 00 <br /> * Admission is 30 minutes before closing <br /> * Closed: Monday, February 12 (Fri), 16 (Tue), 24 (Wed)

Address

5-60 Minaminakadori, Naka-ku, Yokohama

Ticket type / Fee

You can see it at the permanent exhibition admission fee. General 300 yen (250 yen) Under 20 years old, Student 200 yen (150 yen) 65 years old and over, High school student 100 yen * Free for junior high school students and younger, persons with disability certificate, etc., groups of 20 or more in parentheses Fees * There is a discount system by submitting stubs of paid admission tickets for museums in Kanagawa Prefecture.

Contact

Kanagawa Prefectural Museum of History Planning and Promotion Division 045-201-0926

URL