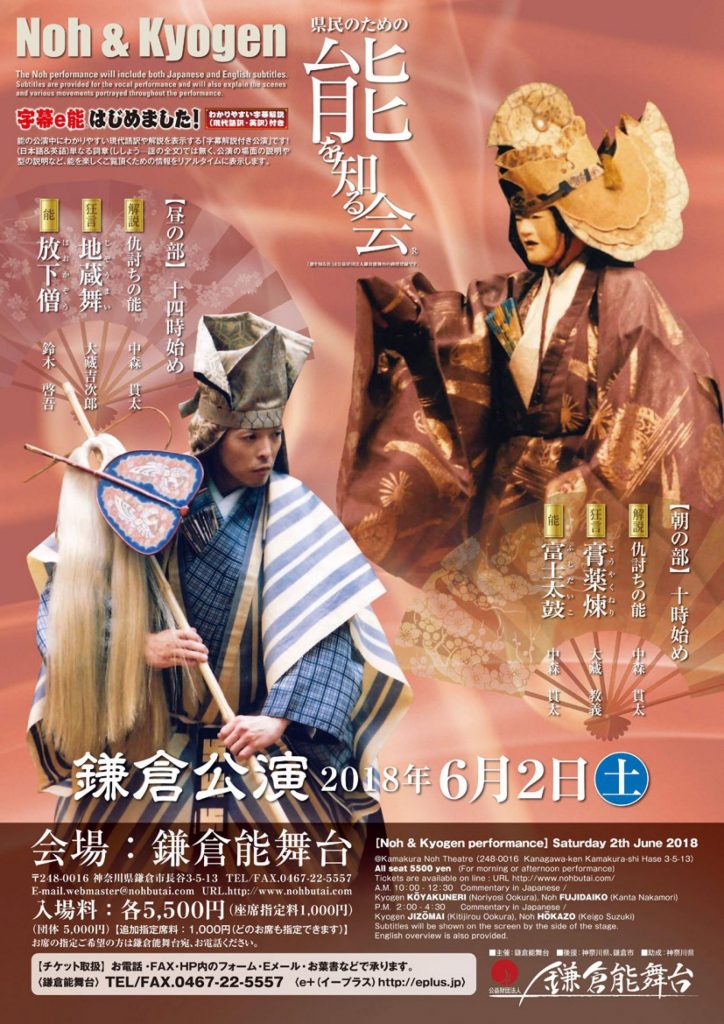 traditional culture
2018.03.02
"Kamakura Performance-Noh Noh-" ・ Commentary "Noh Noh" Kyogen Nakamori ・ Kyogen "Jizo Mai" Yoshijiro Ozo ・ Noh "Hokazo" Keigo Suzuki ・ Q & A Kyogen Nakamori
Kamakura Noh Stage 
(Please note that this page was created using Google's automatic translation service and understand that because of this, its translation may not necessarily be accurate.)
During the rainy season, on Saturday, June 2nd, the Noh club for the citizens of the prefecture will perform a "Hokazo", a priest who defeats his nemesis with his brother's wit.
There are songs such as "Yoru Soga" that actually play a vengeance, but this song is characterized by pretending to be a street performer called "Equanimity" in order to invite caution.
Furthermore, it is performed in a form called faceless face, and it is not only a dramatic script suitable for the name of the present thing, but also a lot of tricks such as Zen questions and answers, kusemai, kakko, and kouta that are not usually seen. It has become the contents.
Kyogen is a performance of "Jizo Mai", in which a traveling monk manages to stay at an inn and dances to the innkeeper in a village where it is forbidden to stay. I will do it.
Event Date

2018-06-02

Hour

14:00 start (13:30 open)

Address

3-5-13 Hase, Kamakura City, Kanagawa Prefecture 248-0016

Appearance

Explanation: Kanta Nakamori Shitekata: Kanta Nakamori, Keigo Suzuki, Naoya Komase, Tsuneji Okugawa, Yoshihisa Endo, Mitsuru Nagashima, Jiro Sakuma, Hideaki Kojima, Takashi Kuwata, Kennosuke Nakamori Wakikata: Noguchi Noguchi Kyogen: Yoshijiro Otsuzumi , Otsuzumi Kyogen, Enomoto Gen, Miyamoto Noboru Flute: Hiroaki Terai Kotsuzumi: Yoharuko Hisada Otsuzumi: Mitsuhiro Kakihara

Ticket type / Fee

All seats unreserved seats 5,500 yen Seat reservation fee ... 1,000 yen (You can specify your favorite seats) ◎ Group 5,000 yen

Ticket Info

● Kamakura Nohbutai TEL / FAX 0467-22-5557 (Telephone / Fax / HP form / leaflet etc.) WEB http://www.nohbutai.com/ticket/ ● Eplus http://eplus. jp / sys / T1U37P0422480150

Contact

Kamakura Nohbutai TEL / FAX 0467-22-5557

URL

Sponsor

Kamakura Nohbutai Public Interest Incorporated Foundation