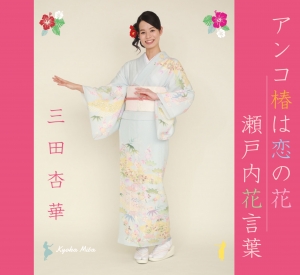 Monthly Enka / Kayokyoku Special Kyoka Mita New song "Anko Tsubaki wa Koi no Hana" Release Commemorative Mini Live
Dynacity West 1F Canyon Stage 
(Please note that this page was created using Google's automatic translation service and understand that because of this, its translation may not necessarily be accurate.)
Those who purchase the target newsletter at the venue on the day can participate in the handshake autograph session and 2-shot photo session after the live.
【 Precautions 】
1. Recording / recording (video) is strictly prohibited.
In addition, please refrain from taking pictures from the audience seats at the privilege party.
2. Please note that the content of the event may be changed or canceled due to various reasons.
3. Please be sure to follow the staff's instructions during the event. Those who cannot follow the instructions will be asked to leave the venue on the way.
4. Please manage your valuables by yourself. The organizer is not responsible for any theft.
5. Please refrain from making direct inquiries to the venue.
Event Date

2018-03-15

Hour

①13: 00 ~ ②15: 00 ~

Address

208 Nakazato, Odawara City, Kanagawa Prefecture 250-0872

Appearance

Kyoka Mita [Profile] When I was in the second grade of elementary school, I became interested in enka when I saw Yoko Nagayama on TV. He started attending local song classes and began to perform songs at karaoke recitals and Keirokai. In addition, he started learning Tsugaru shamisen and folk songs from the 4th grade of elementary school, triggered by a concert by Yoko who went to see with his father. When he was in the first year of high school, he participated in NHK Nodo Jiman held in Uwajima City, Ehime Prefecture. Singing "Jonkara Onnabushi" while playing the shamisen, passed. When I thought about my career at university, I thought, "I love music. I want to sing enka!", So I went to Tokyo after graduating from university. Released on January 31, 2016 "Son no Uta" (written by Kiyoshi Akiba / composed by Ichiro Kimura) Debuted with "Anything is Happy" (written by Takeshi Kamo / composed by Masahiro Magami).

Ticket type / Fee

Free viewing