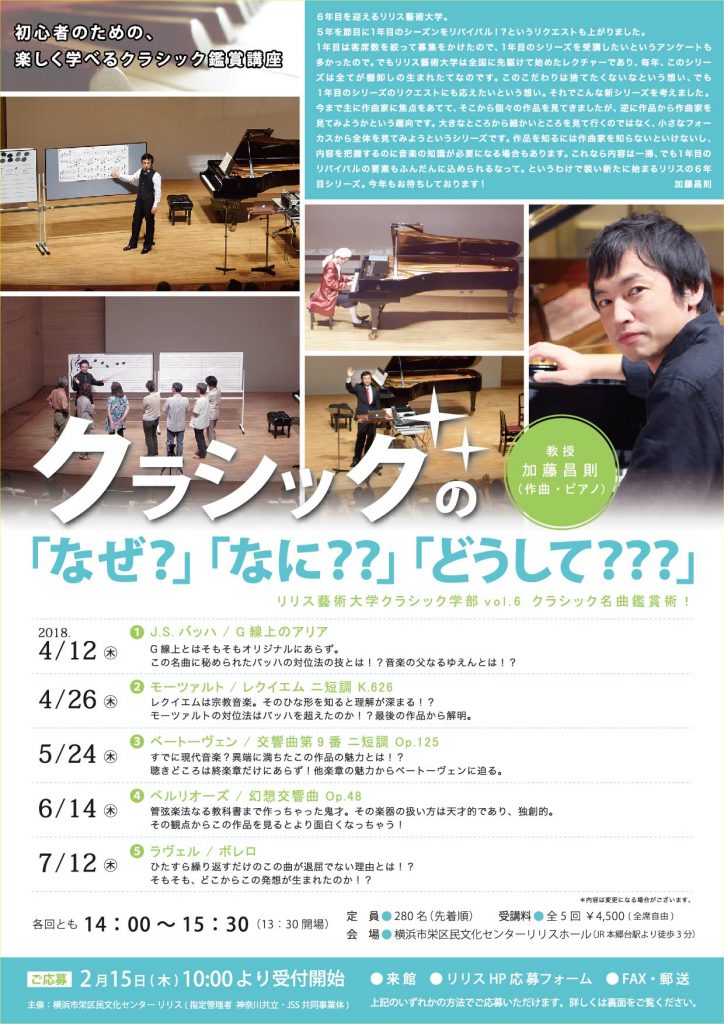 musics
Lilith University of the Arts classical department vol.6 classic famed piece appreciation technique! "Why?" "What?" "Why ???"
開催:2018.07.12
Recruitment for classic appreciation lecture for fun learning for beginners
The 1st 【JS Bach: Aria on the G-line (April 12)】
Originally on the G line is not originally.
What is the technique of Bach's counterpoint hidden in this masterpiece! What? What is it to be the music father? What?
The 2nd [Mozart: Requiemu mini K.626 (April 26)]
Requiem is religious music. Knowledge of that model deepens understanding! What?
Were Mozart's counterpoint beyond Bach! What? Elucidated from the last work.
The 3rd [Beethoven: Symphony No. 9 in D minor, Op. 125 (May 24)]
Already modern music? What is the charm of this work filled with heretics! What?
Listening is not the only movement in the end! We approach Beethoven from the charm of another movement.
The 4th [Berlioz: Fantasy Symphony Op. 48 (June 14)]
A talented person who made even textbooks of orchestral music. How to handle the instrument is genius and ingenious.
From this point of view, this work will make you more interesting!
The 5th 【Ravel: Bolero (July 12th)】
What is the reason why this song just repeats itself is not boring! What?
Where did this idea originate from the first place! What?
* The contents may be changed.
Area

Yokohama City (excluding the Bay Area)

Event Date

All five times Thursday, April 6, 2018 - Thursday, July 12,

Event Date

2018-07-12

Hour

14: 00 opening (opening at 13:30)

Place

Sakae District Cultural Center Lilith Hall

Address

1-2-1 Kosugaya, Sakae-ku, Yokohama-shi, Kanagawa Prefecture 247-0007

Appearance

Masanori Kato (composer · Pf)

Ticket Info

[Application] Begin acceptance from 10:00 on Thursday, February 15, 2018 Fill out the necessary items on the designated application form and bring it to fax / postal mail or liris reception, or contact the Lilith website (http: / / / www.lilis.jp/) Please apply from the application form.

Contact

Yokohama-shi Sakae District Culture Center Lilith Tel: 045-896-2000

URL

Sponsor

Yokohama-shi Sakae District Cultural Center Lilith