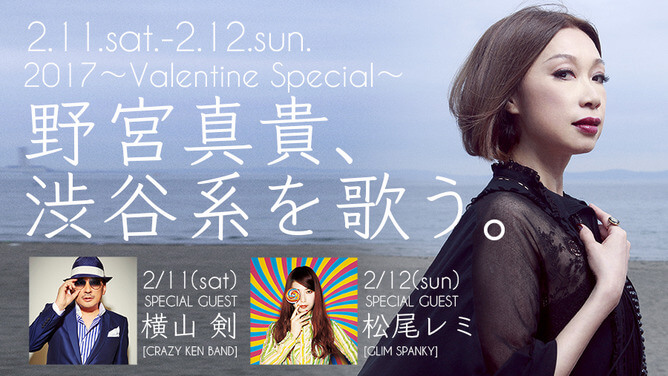 Maki Nomiya sings Shibuya-kei. 2017 ~ Valentine Special ~
MOTION BLUE YOKOHAMA 
(Please note that this page was created using Google's automatic translation service and understand that because of this, its translation may not necessarily be accurate.)
In 1990, he was active worldwide as the third vocalist of Pizzicato Five.
A Valentine performance presented by Yokohama by Maki Nomiya, who has created an "Shibuya-kei" movement and has gained overwhelming support as a music / fashion icon.
We will welcome strong daily guests such as Ken Yokoyama of Crazy Ken Band and Remi Matsuo of Glim Spanky to deliver a new "Shibuya-kei" sound that fuses nostalgia and cutting edge, and a gem of a love song.
Guest Guest
Ken Yokoyama [CRAZY KEN BAND] * Appeared only on 2/11 Remi Matsuo [GLIM SPANKY] * Appeared only on 2/12
Maki Nomiya Official Site
http://www.missmakinomiya.com/
Start Day

2017-02-11

End Day

2017-02-12

Hour

[1st] open_3: 15pm / showtime_4: 30pm [2nd] open_6: 15pm / showtime_7: 30pm * The performance will be replaced. * Reference numbers will be issued in the order in which reservations are accepted.

Address

1-1-2 Shinko, Naka-ku, Yokohama-shi, Kanagawa Yokohama Red Brick Warehouse No. 2 3F

Appearance

Maki Nomiya (vocals) Spam Kasugai (per, key, cho), Keitoshi Shinto (p, key, cho) Jun Ishida (b), Shuichi Hirasato (ds) Guest: Ken Yokoyama [CRAZY KEN BAND] (vo) * Appeared only on 2/11 Remi Matsuo [GLIM SPANKY] (vo) * Appeared only on 2/12, etc.

Ticket type / Fee

Unreserved seats ¥ 8,500 (tax included) BOX seats ¥ 34,000 + seat charge ¥ 6,000 (up to 4 people can be used) * BOX seats can only be reserved via the Internet

Ticket Info

* Free account registration is required when making online reservations. If you have not registered yet, we recommend that you register in advance from

"My Page".

* A credit card is required when making a reservation from the website. Accepted credit cards ⇒ VISA, MASTER, JCB, AMEX, DINERS

Ticket Info URL

Contact

Motion Blue Yokohama 045-226-1919 (11: 00a.m-9:00p.m)

URL