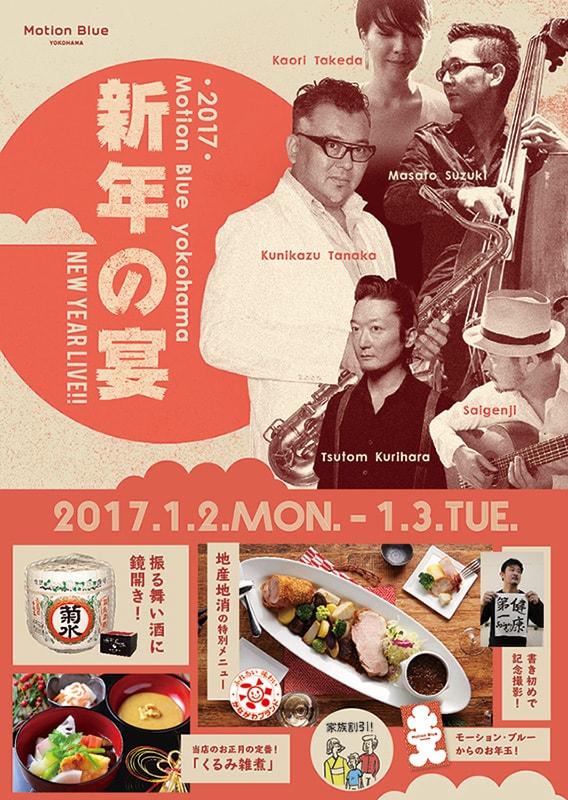 Motion Blue Yokohama New Year's Feast 2017
MOTION BLUE YOKOHAMA 
(Please note that this page was created using Google's automatic translation service and understand that because of this, its translation may not necessarily be accurate.)
In addition to high-quality jazz live performances by talented members led by saxophonist Kunikazu Tanaka, as a privilege, we will open the mirror, start writing, and prepare a special menu using local ingredients from Kanagawa prefecture.
As a family discount plan, children up to elementary school age are admitted free of charge, and preschoolers can also enter the store for these two days so that the whole family can enjoy this opportunity.
Enjoy colorful music and food with your family in the New Year!
☆ New Year special menu ☆
New Year special menu using ingredients from the prefecture with the cooperation of "Kanagawa Brand Promotion Council"!
・ New Year Kana-san plate ・ Walnut ozoni
Start Day

2017-01-02

End Day

2017-01-03

Hour

Each day open_3: 00pm / showtime_4: 00pm * There will be a 30-minute break between the stages.

Address

1-1-2 Shinko, Naka-ku, Yokohama-shi, Kanagawa Yokohama Red Brick Warehouse No. 2 3F

Appearance

Kunikazu Tanaka (sax), Kaori Takeda (vo), Saigenji (vo, g) Masato Suzuki (b), Tsutomu Kurihara (ds)

Ticket type / Fee

Unreserved seats ¥ 4,000 (tax included) BOX seats ¥ 16,000 + seat charge ¥ 4,000 (up to 4 people can be used) * BOX seats can only be reserved via the Internet

Ticket Info

* Free account registration is required when making online reservations. If you have not registered yet, we recommend that you register in advance from

"My Page".

* A credit card is required when making a reservation from the website. Accepted credit cards ⇒ VISA, MASTER, JCB, AMEX, DINERS * Reservations for this plan can only be made by phone. * Cannot be combined with other discount campaigns or benefits. * Click here for details

http://www.motionblue.co.jp/reservation/kazokuwari

Ticket Info URL

Contact

Motion Blue Yokohama 045-226-1919 (11: 00a.m --10: 00p.m)

URL