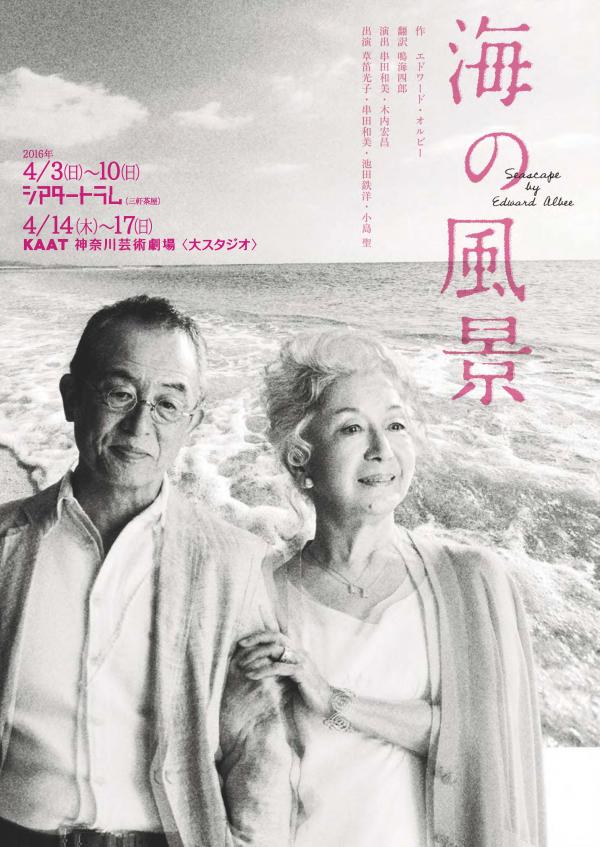 Theater / dance
2016.02.23
"Seascape"
KAAT Kanagawa Arts Theater Large Studio 
(Please note that this page was created using Google's automatic translation service and understand that because of this, its translation may not necessarily be accurate.)
Adult fantasy presented with a unique face-to-face
Mitsuko Kusabue and Kazuyoshi Kushida meet for the first time in the Pulitzer Prize-winning play "Seascape" by Edward Albee ("Virginia Woolf isn't scary").
Charlie and his wife Nancy have recently retired for a picnic at the beach.
A young couple appeared there, and two pairs of strange exchanges began on the sandy beach where the sun was shining brightly.
Written by Edward Albee Translated by Shiro Narumi Director: Kazuyoshi Kushida Hiromasa Kiuchi
Cast: Mitsuko Kusabue Kazumi Kushida Tetsuhiro Ikeda Hijiri Kojima
Start Day

2016-04-14

End Day

2016-04-17

Hour

4.14 (Thursday) 19:00 4.15 (Friday) 14:00 4.16 (Saturday) 14:00 4.17 (Sunday) 14:00

Address

281 Yamashita-cho, Naka-ku, Yokohama-shi, Kanagawa

Ticket type / Fee

Ticket release date ・ KAme Kanagawa Members: February 21, 2016 (Sun) -February 23, 2016 (Tuesday) Kanagawa Members (KAme) ・ General: February 24, 2016 (Wednesday) (All seats reserved, tax included ) General 6,000 yen 25 years old or younger 3,000 yen

Ticket Info

▼ Preis 090-2663-2014 (Weekdays 11: 00-18: 00) http://place-net.co.jp/ ▼ Ticket Pia 0570-02-9999 P code 448-915 ▼ Eplus http://eplus. jp (common to PCs and mobile phones) ▼ Lawson Ticket 0570-084-003 L code 38898 0570-000-407 (Operator support 10: 00-20: 00) Internet reservation http://l-tike.com/ (PCs and mobile phones) Common) ▼ Over-the-counter sales Lawson Ministop You can purchase directly at Loppi in the store. ▼ Ticket Kanagawa Tel.0570-015-415 (Reception hours 10: 00-18: 00) http://www.kanagawa-arts.or.jp/tc/

Contact

03-3354-8361

URL