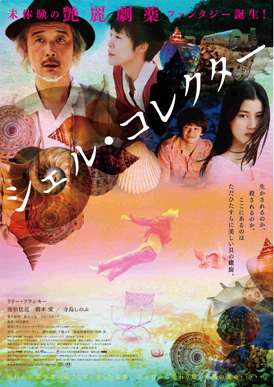 Shell collector
Cinema Jack & Betty 
(Please note that this page was created using Google's automatic translation service and understand that because of this, its translation may not necessarily be accurate.)
Will it be kept alive or killed?
Here is just a beautiful spiral of shellfish.
Illustrator, writer, musician, essayist ... Since Lily Franky, who has many faces and won all the movie awards for "Like Father, Like Son" and "The Devil's Path" as an actor, has been "Blind Beast vs. One Dimension Master" (01). "Shell Collector" who challenged as a solo starring work. In this film, he played the difficult role of a blind conchologist who loves loneliness and lives apart from his wife and children. Shinobu Terajima, an indispensable actress in the Japanese film industry, plays Izumi, a woman who drifts to the island and plays with the fate of scholars, such as "Vibrator" and "Caterpillar." Sosuke Ikematsu, the son of a scholar who struggles with his relationship with his father and continues to receive awards for "Our Family" and "Pale Moon," and Izumi, the daughter of an influential person on the island. Ai Hashimoto, a young talented actress who continues to evolve with the release of popular works such as "Parasitic Beast" and "The Inerasable" to the girl, Ikematsu, who was affected by the same strange disease. Also, the appearance of Jim Stark, who is known as the producer of Jarmusch's work, should not be overlooked by movie fans. Unique and gorgeous casts spun out a rare visual world miraculously created in the contemporary Japanese film industry!
https://youtu.be/6aKABKffTbo
Official site: http://bitters.co.jp/shellcollector/
[Director] Yoshifumi Tsubota [Cast] Lily Franky, Shinobu Terajima, Sosuke Ikematsu, Ai Hashimoto, Akira Fukuhara
2016 / Japan, USA / Bitters End / DCP
[Stage greeting]
After the screening at 15:30 on 2/27 (Sat), there will be a stage greeting on the first day Speakers (planned): Lily Franky, Sosuke Ikematsu, Yoshifumi Tsubota Director The ticket for the stage greeting will be on 2/13 (Sat) I will sell more in advance.
[Release date] From 2/13 (Sat) opening (around 9:10) [Fee] Flat rate 2000 yen * Advance tickets cannot be used * Various discounts such as member discounts are not applicable * Free admission to invitation tickets, point cards, etc. is not possible
Start Day

2016-02-27

End Day

2016-03-11

Hour

February 27th (Sat) -March 3rd (Thursday) 11: 40-13: 15 15: 30-17: 05 19: 25-20: 55 [Late] March 4th (Friday) 11: 40- 13:15 15:30 ~ 17:05 March 5th (Sat) ~ March 11th (Fri) 15:40 ~ 17:10 21:10 ~ 22:40 [Late] * 2/27 ~ End date undecided Please contact the theater for hours after 3/11 (Friday).

Address

3-51 Wakabacho, Naka-ku, Yokohama-shi, Kanagawa

Ticket type / Fee

General ¥ 1,800 College ¥ 1,500 High school or younger / Senior ¥ 1,000 * Member discount available [Late] times late show discount General ¥ 1,500 College ¥ 1,200 High school or younger / Senior ¥ 1,000 * Member discount available

Contact

Cinema Jack & Betty TEL 045-243-9800 (9: 30-21: 00) MAIL info@jackandbetty.net (24 hours reception)

URL