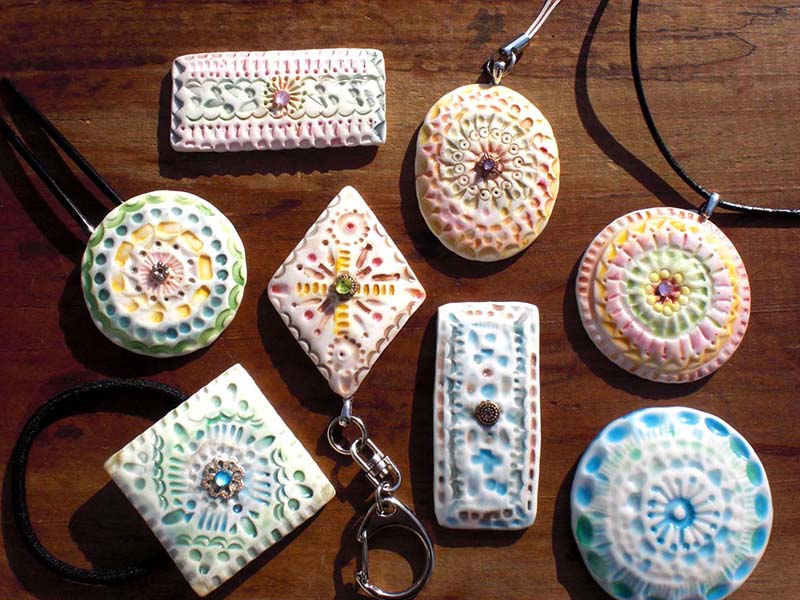 Ceramic art workshop Making white porcelain relief accessories
Kanagawa Prefectural Fujino Art House Studio 
(Please note that this page was created using Google's automatic translation service and understand that because of this, its translation may not necessarily be accurate.)
We make white porcelain relief accessories that are nice to use and decorate.
The white porcelain base with the relief pattern that has been fired in advance is colored with a special paint and fired again for fixing. After that, it is made into an accessory using several kinds of accessory parts.
You can choose from 3 types such as pendants, key chains, straps, brooches, hairpins, and obidomes.
Enjoy intricate textured colors like watercolors. In addition, a wooden display box is included as a set, so you can enjoy decorating it. One size is 4 cm to 5 cm in diameter.
Dates: March 4th (Friday), March 6th (Sunday), 18th (Friday), 19th (Saturday), please choose one day.
Event Date

2016-03-04

Hour

13: 30-16: 00 each day

Address

4819 Magino, Midori-ku, Sagamihara City, Kanagawa Prefecture

Ticket type / Fee

◎ Participation fee A set of 3 accessories with a wooden decorative box ¥ 3,800

Ticket Info

● Apply by phone 042-689-3030 (Fujino Art House Reception Hours 9: 00-21: 00)

Contact

4819 Magino, Midori-ku, Sagamihara Kanagawa Prefectural Fujino Art House TEL 042-689-3030

URL