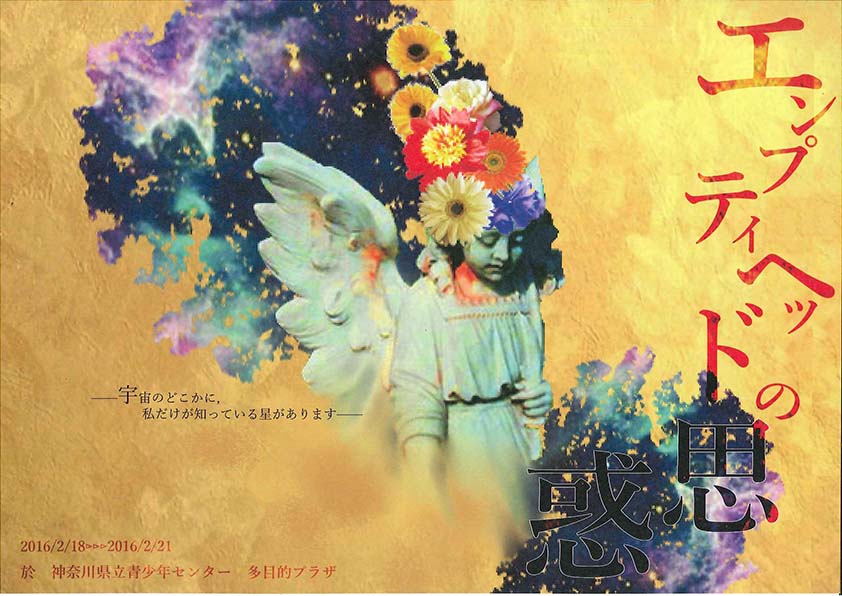 Theater / dance
2016.01.28
Participation in the Magcal Theater / Confusion [omowaku] 1st performance "Empty Head's Thought"
Kanagawa Prefectural Youth Center Multipurpose Plaza 
(Please note that this page was created using Google's automatic translation service and understand that because of this, its translation may not necessarily be accurate.)
-One day, that person disappeared-
One full moon night, the flowers bloom even more mysteriously,
When the next sun crashes
Many people disappeared.
This is a story of fruiting, drawn by the confusion [omowaku].
Start Day

2016-02-18

End Day

2016-02-21

Hour

18th (Thursday) 19:00 ☆ First day discount 19th (Friday) 19:00 20th (Sat) 14: 00/18: 00 21st (Sun) 13: 00/17: 00 * Reception is 45 minutes from the start Before, the opening is 30 minutes before the start

Address

9-1 Momijigaoka, Nishi-ku, Yokohama-shi, Kanagawa

Appearance

Screenplay Ikemasu Haruyuki Directed by Ai Iokamori Ai Iokamori, Ai Ikemasu, Yusaku Umeda, Mio Okamoto, Toshikingu, Sohei Nihi, Masaru Masaka, Masaomi Mayama, Yu Yoshioka, Motoharu Asahi, Yuya Takashi, Daichi Nakamura, Funasaka Yuuki

Ticket type / Fee

General 2,000 yen (2,500 yen on the day) University / professional student 1,500 yen (2,000 yen on the day) High school students and younger 1,000 yen (advance sale and day) * Please show your student ID card on the day. Preschoolers are free to enter. * Only on the first day, general, university and professional students will be charged a flat rate of 1,500 yen regardless of whether they are on the day or in advance.

Ticket Info

Reservation form https://www.quartet-online.net/ticket/en_omo

Contact

Confusion [omowaku] MAIL g.omowaku@gmail.com

URL