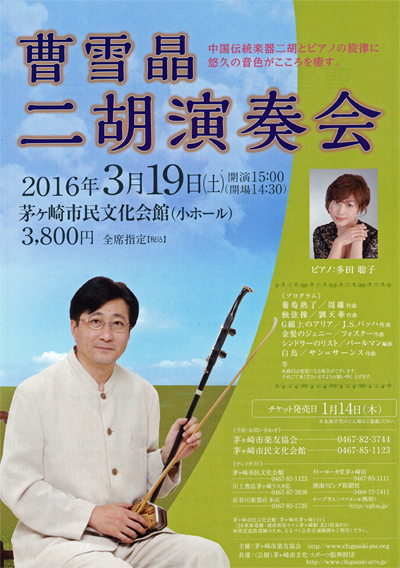 musics traditional culture
2016.01.26
Soyuki Akira Erhu Concert
Chigasaki Citizens' Cultural Center Small Hall 
(Please note that this page was created using Google's automatic translation service and understand that because of this, its translation may not necessarily be accurate.)
Eternal tones heal the mind with the melody of the traditional Chinese instrument erhu and piano.
A graceful and delicate world of traditional Chinese musical instruments, the erhu and the piano ...
Please enjoy the deep and melancholy tone unique to Erhu to your heart's content.
【program】
Grape maturity / Zhou Wei composition Solo string operation / Liu Tianhua composition
Air on the G String / JS Bach Composition Jeanie with the Light Brown / Foster Composition Schindler's List / Perlman Arrangement Swan / Saint-Saens Composition etc. * Songs are subject to change. Please note.
Event Date

2016-03-19

Hour

15:00 start (14:30 open)

Address

1-11-1 Chigasaki, Chigasaki City, Kanagawa Prefecture 253-0041

Appearance

Akira Soyuki (Erhu) Satoko Tada (Piano)

Ticket type / Fee

All seats reserved 3,800 yen * Please refrain from admission and companion of preschoolers.

Ticket Info

● Kawakami Bookstore Chigasaki Lasca Store TEL 0467-87-3826 ● Hasegawa Musical Instrument Store Main Store TEL 0467-85-1725 ● Ito-Yokado Chigasaki Store TEL 0467-85-1111 ● Shonan Living Shimbun TEL 0466-27-7411 ● Eplus (e +) WEB http://eplus.jp/ ● Chigasaki City Rakuyu Association TEL 0467-82-3744 ● Chigasaki Citizens' Cultural Center 0467-85-1123

Contact

Chigasaki City Musical Friendship Association 0467-82-3744

URL