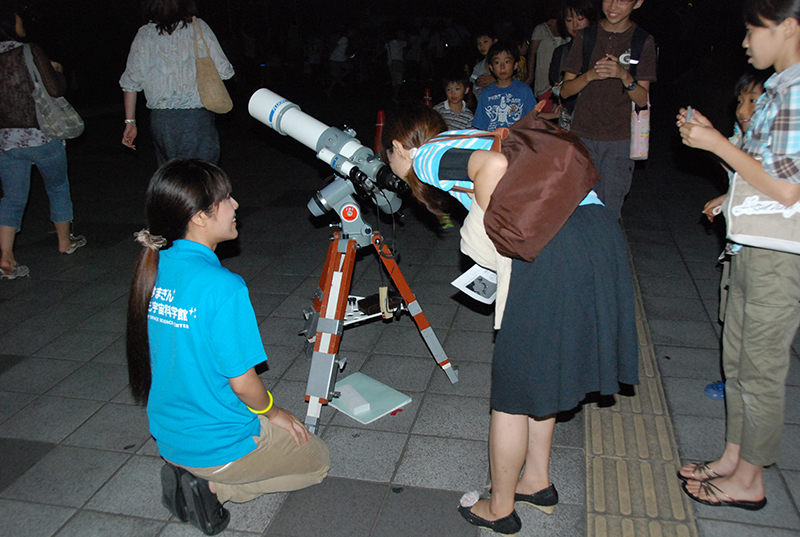 Planetarium and Starry Sky Observation Meeting "Let's see the starry sky in March! Let's see the star clusters!"
Hamagin Space Science Center 1F Space Theater (Planetarium) and Science Museum Front Garden 
(Please note that this page was created using Google's automatic translation service and understand that because of this, its translation may not necessarily be accurate.)
After listening to the story of the starry sky of the day at the planetarium, use an astronomical telescope outside to see celestial bodies such as the moon, planets, nebulae, clusters, and galaxies. This time, I mainly look for winter constellations and see the stars in spring constellations with an astronomical telescope.
* The celestial body you see may change depending on the weather.
Capacity: 100 people Target: Anyone (junior high school students and younger are accompanied by a guardian)
How to apply: Apply in advance using the "Application Form" on the website or the round-trip postcard (addressed to the Hamagin Space Science Center "Let's see the starry sky in March!").
Up to 5 people can apply at the same time.
Please specify the following contents.
--------------------------------------------
1. Event name 2. Representative name / Furigana 3. Number of participants /
Age (grade) 4. Zip code / address 5. Telephone number
--------------------------------------------
Deadline: Must arrive on Saturday, February 20, 2016
* We will inform you of the lottery results regardless of whether you win or not.
* "Winning notification" is required to participate. If you do not hear from us by the day before, please contact us.
* If you do not fill in the required items, your application will be invalid.
* Applications for filling in with a disappearing ballpoint pen will be invalid.
* The parking lot cannot be used after 17:00 on the day of the event. Please use public transportation.
* Depending on the weather, the target celestial body may not be seen or the celestial body to be viewed may be changed.
* In case of rain or cloudy weather, only planetarium special projection will be performed.
Event Date

2016-03-05

Hour

18: 45-19: 30 Planetarium special projection 19: 30-20: 40 Starry sky observation party

Address

5-2-1 Yokodai, Isogo-ku, Yokohama-shi, Kanagawa

Ticket type / Fee

Adults 600 yen, 4 years old to junior high school students 300 yen (Please show the printed winning email or the winning postcard at the 1st floor information on the day and pay)

Contact

Hamagin Space Science Center TEL 045-832-1166

URL