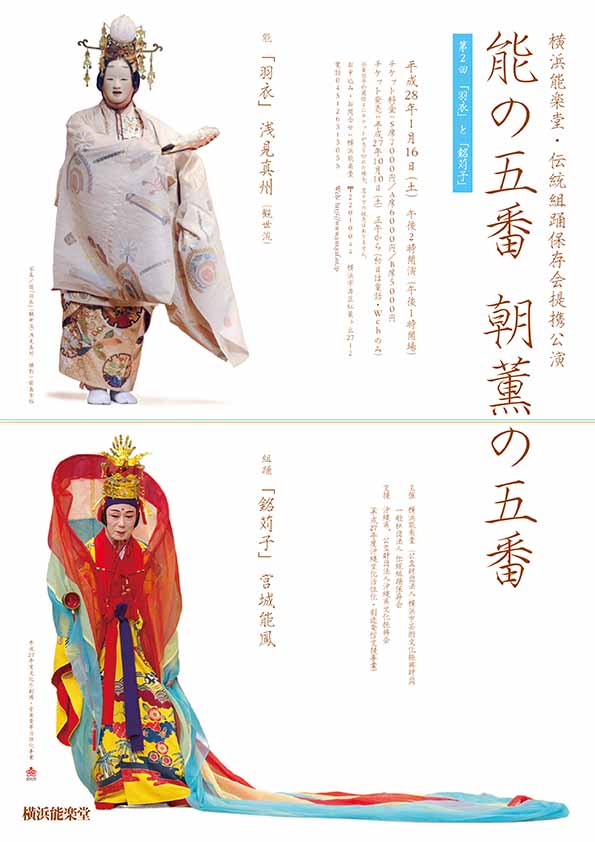 traditional culture
2015.12.28
Yokohama Noh Theater / Traditional Kumi Odori Preservation Association Performance "Noh No. 5 Asa Kaoru No. 5"
Yokohama Noh Theater 
(Please note that this page was created using Google's automatic translation service and understand that because of this, its translation may not necessarily be accurate.)
Noh and Kumi Odori are both designated as UNESCO's "World Intangible Heritage". Kumi Odori related to Noh will be performed for 5 years. In the second session, Masakuni Asami, one of the winners of the Medal with Purple Ribbon and one of the representative Noh performers, and Noh Miyagi, the only "living national treasure" in Kumi Odori, will compete with Noh "Hagoromo" and its involvement. We will send you a Kumi Odori dance called "Meikuni".
Event Date

2016-01-16

Hour

14:00 start (13:00 open)

Address

27-2 Momijigaoka, Nishi-ku, Yokohama-shi, Kanagawa

Appearance

Noh "Hagoromo" (Kanze style) Shite (Tenjin) Masakuni Asami Waki (Fisher Hakuryu) Hosho Kaoru Wakitsure (Fisher) Kazuya Kudo Wakitsure (Fisher) Hideshi Norihisa Flute Fujita Rokurobei Kodrum Okura Genjiro Otsuzumi Kamei Hirotada Taiko Mishima Mototaro Guardian Jiichi Asami Kengo Tanimoto Jiyo Fumiyoshi Okada Osamu Kobayakawa Takahiro Kitanami Keizo Nagayama Takayasu Ando Kenichi Aoki Yasuki Kobayakawa Kumi Odori "Oyadomari Kosho" Oyadomari Kosho Tenjo Miyagi Noh Feng Shizuru Koken Masakuni Asami, Masakuni Asami, Oyadomari Kosho, Oyadomari Kosho, Kyadomari Kosho, Kureya Chika Sanshin, Yoshiharu Nishie, Hirotoshi Uema, Kazuki Koto, Koto, Hideaki Ubo, Kokyu

Ticket type / Fee

S seat 7.000 yen / A seat 6.000 yen / B seat 5.000 yen (all seats reserved)

Ticket Info

● Yokohama Noh Theater TEL 045-263-3055 (9: 00-20: 00 except closed days) WEB http://www.ynt.yaf.or.jp/

Contact

Yokohama Noh Theater TEL 045-263-3055 (9: 00-20: 00, excluding closed days)

URL