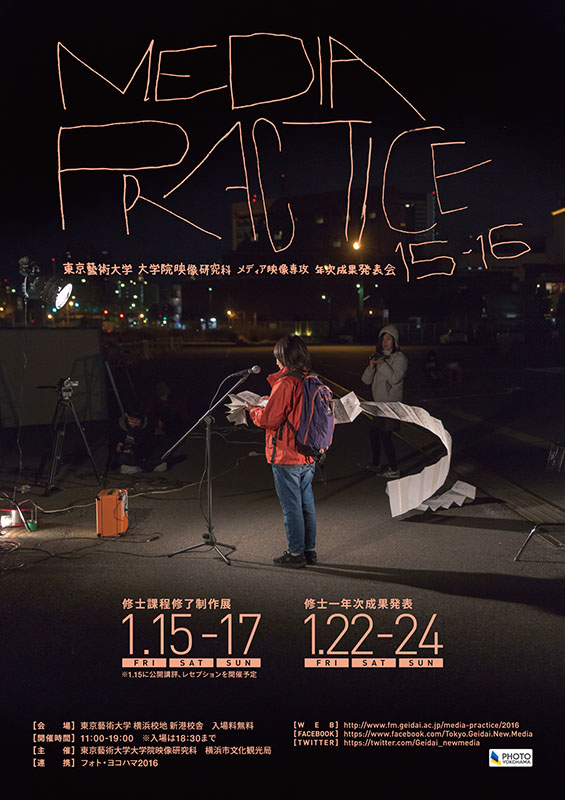 Art / photography
2015.12.25
Media Practice 15-16 [Master's Program Completion Exhibition]
Tokyo University of the Arts Yokohama Campus Shinko Campus 
(Please note that this page was created using Google's automatic translation service and understand that because of this, its translation may not necessarily be accurate.)
The Department of Media and Video, Graduate School of Imaging, Tokyo University of the Arts will hold an annual result presentation "Media Practice 15-16". "Media Practice" is a two-part exhibition. The first part will be an exhibition of completed productions by the second year of the master's course, and the second part will be the annual results announcement by the first year of the master's degree.
I was surprised to see a long list of prohibited items on the signboards of urban parks.
Ball play, loud voices, and fireworks are prohibited. However, there were children who played regardless of the rules and children who made their own new rules and played, laughing really happily.
I think that the convenient environment given by technological development has entered our lives today, and we are using it as it is without any doubt. On the other hand, it may be difficult to pay attention to the essence of what the impact and significance are.
We have been trying to create our own new media by re-examining the characteristics and meanings of the media. I believe that this quest will lead to questioning the state of society beyond the framework of common sense that various media wear.
The Shinko school building, where the media video major has spent 10 years, will move to the new school building in Motomachi-Chukagai at the end of this "Media Practice 15-16". We hope that many people will come to the final exhibition at the Shinko school building. We hope that this exhibition will allow you to share with you the possibilities of new media expressions that are not bound by existing forms of expression.
We apologize for the inconvenience, but we would appreciate it if you could take a look.
Media video major 9th and 10th gen members
[Master's Program Completion Exhibition] January 15th (Fri), 16th (Sat), 17th (Sun), 2016
[Announcement of Master's First Year Results] January 22, 2016 (Fri), 23 (Sat), 24 (Sun)
Start Day

2016-01-15

End Day

2016-01-17

Hour

11: 00-19: 00 * Admission is until 18:30

Address

2-5-1 Shinko, Naka-ku, Yokohama-shi, Kanagawa

Ticket type / Fee

free

Contact

Tokyo University of the Arts Graduate School of Imaging Media Imaging Faculty Office (TEL: 045-210-9297)

URL