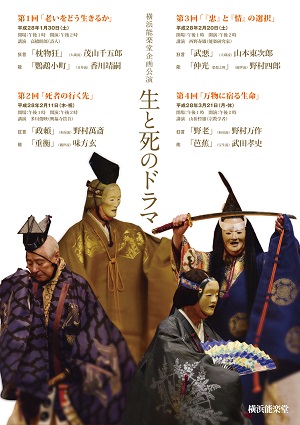 traditional culture
2015.12.18
Yokohama Noh Theater Planning Performance "Drama of Life and Death" 3rd "Choice of" Tadashi "and" Emotion ""
Yokohama Noh Theater 
(Please note that this page was created using Google's automatic translation service and understand that because of this, its translation may not necessarily be accurate.)
The Middle Ages when Noh and Kyogen blossomed. It was a time when "life" and "death" were much closer than they are now. As if to symbolize it, various lives and deaths are depicted in Noh and Kyogen works. People appear as spirits even after death, and even nature such as vegetation has a personality. And those who live face the problems of "life" and "death" and are delighted. What does the view of life and death seen in this Noh and Kyogen show to us, who still have the eternal theme of "living" and "dying" after more than 600 years? We will approach through a four-part series of Noh and Kyogen works and lectures.
■ The 3rd "Choice of" loyalty "and" feeling ""
Kyogen "Wu Evil" (Okura School) Tojiro Yamamoto Noh "Nakamitsu Sorrowful Bugaku" (Kanze School) Shiro Nomura The kyogen "Takeshi", which dramatically depicts the relationship between the two, and the Noh "Nakamitsu," which depicts the appearance of Nakamitsu Fujiwara, who suffers from the life of his master, are performed. We will consider human "ethics" under the theme of "loyalty" and "feeling" of the samurai society.
Event Date

2016-02-20

Hour

14:00

Address

27-2 Momijigaoka, Nishi-ku, Yokohama-shi, Kanagawa

Ticket type / Fee

1st S seat 10,000 yen, A seat 9,000 yen, B seat 5,000 yen 2nd, 3rd, 4th S seat 7,000 yen, A seat 6,000 yen, B seat 5,000 yen * Ticket release date 10/24 (Sat) 12:00 (Telephone / WEB only on the first day)

Contact

Yokohama Noh Theater 045-263-3055 nougaku@yaf.or.jp

URL