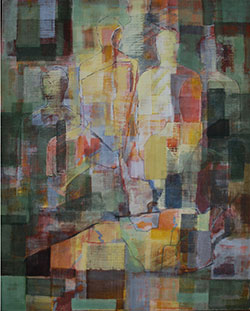 Art / photography
2015.12.18
2015 4th Collection Exhibition Special Feature Satoshi Yamanaka-Standing in the Light-
Yokosuka Museum of Art Basement Exhibition Room 5 
(Please note that this page was created using Google's automatic translation service and understand that because of this, its translation may not necessarily be accurate.)
[Closed: 12/29 (Tue) -1/4 (Mon), 2/1 (Mon), 3/7 (Mon) Free viewing day 2/14 (Sun)]
The Yokosuka Museum of Art holds an exhibition of its collections four times a year, and introduces the works of modern and contemporary Japanese art and the works of artists related to Yokosuka. The corridor-style gallery around the basement of the main building displays works in chronological order, and the exhibition room in the middle of the gallery has its own theme.
Exhibition Room 4 is the Asai Kanemon Memorial Room, which introduces the works of Western-style painter Asai Kanemon, who had an atelier in Taura, Yokosuka City for 20 years after the war. This time, we will focus on the unique illusion of Asai's work, which can be seen in works that depict everyday landscapes around us.
In Exhibition Room 5, we will introduce the work of Japanese-style painter Satoshi Yamanaka, who settled in Yokosuka and produced it as a special feature "Satoshi Yamanaka-Standing in the Light". Please pay attention to the expression of light that makes the best use of the characteristics of mineral pigments.
In exhibition rooms 6 and 7, we will look at the variety of monochrome expressions through the print works in relation to the special exhibition "Shizu Shimada and Teruo Isomi Exhibition Colors and Monochrome" to be held from February 6th. (First term: December 19th to January 31st / Second term: February 2nd to April 3rd, the exhibition will be changed.)
In Exhibition Room 8, we will introduce postwar Japanese paintings from the collection of works in connection with the special feature "Yamanaka So-Standing in the Light".
Start Day

2015-12-19

End Day

2016-04-03

Hour

Please check here for opening hours. http://www.yokosuka-moa.jp/schedule/index.html

Address

4-1 Kamoi, Yokosuka City, Kanagawa Prefecture

Ticket type / Fee

General 310 (250) yen, high / large / 65 years old and over 210 (160) yen * You can also see the Taniuchi Rokurokan. * () Is for groups of 20 or more * Free for junior high school students and younger, and free for high school students living or attending school in the city. * Free for persons with a physical disability certificate, nursing certificate, mental disability certificate, and one accompanying person

Contact

046-845-1211 (Representative)

URL