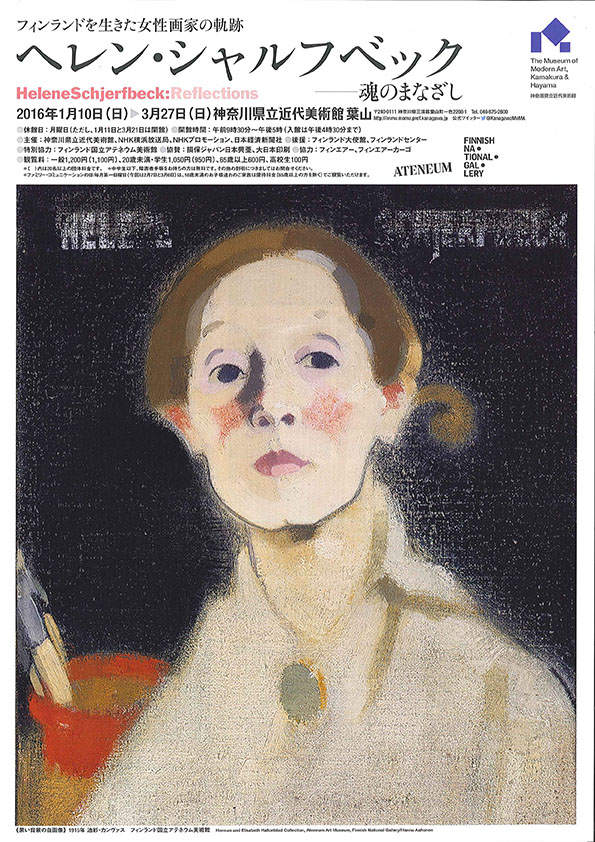 Art / photography
2015.11.25
Helene Schjerfbeck: The Eyes of the Soul Helene Schjerfbeck: Reflections
Kanagawa Prefectural Museum of Modern Art Hayama 
(Please note that this page was created using Google's automatic translation service and understand that because of this, its translation may not necessarily be accurate.)
[Closed: Mondays (However, January 11th and March 21st are open)]
This exhibition introduces the whole picture of the creation of Finland's leading painter Helen Schalfbeck (1862-1946), which has rarely been introduced in Japan.
Schjerfbeck was crippled in an accident at the age of three. He discovered his talent for painting at the age of 11 and in 1880 received a scholarship at the age of 18 to go to the art capital of Paris, where he was exposed to cutting-edge art and was influenced by Manet, Cezanne and Whistler. We also visit Pont-Aven in France and St Ives in England. Returning to Finland, he taught at a drawing school in Helsinki in the 1890s, but moved to Huwinger in 1902 to recuperate from illness. Over the last 15 years, Schjerfbeck's art has evolved significantly, establishing her own modern style.
In the turbulent turmoil of Finland before and after independence, explore the art of the same era as the past, see familiar things, and works that can be said to be the trajectory of Schjerfbeck's soul, who looked deeply at himself.
[Related project]
▷ "Opening Talk" Sunday, January 10
▷ "Guest Talk" Saturday, February 6th
Start Day

2016-01-10

End Day

2016-03-27

Hour

9:30 am to 5 pm (admission is until 4:30 pm)

Address

2208-1 Isshiki, Hayama-cho, Miura-gun, Kanagawa

Ticket type / Fee

Admission fee: General 1,200 yen (1,100 yen) / Under 20 years old / students 1,050 yen (950 yen), 65 years old and over 600 yen, high school students 100 yen * () is for groups of 20 or more. * Free for junior high school students and younger and those with a disability certificate. Please contact us for other discounts. * Family Communication Day: On the first Sunday of every month (February 7th and March 6th this time), families with children under the age of 18 will be admitted at a special rate (excluding those aged 65 and over). receive.

Ticket Info

Kanagawa Prefectural Museum of Modern Art Hayama Telephone: 046-875-2800 (Representative)

Contact

Kanagawa Prefectural Museum of Modern Art Hayama Telephone: 046-875-2800 (Representative)

URL