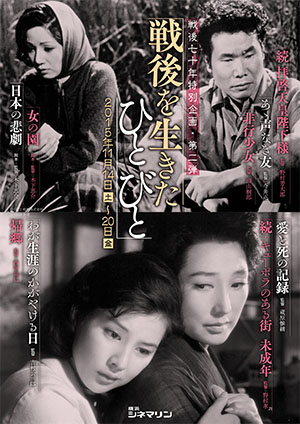 70 years after the war Special project, 2nd people who lived after the war
Yokohama Cinemarine 
(Please note that this page was created using Google's automatic translation service and understand that because of this, its translation may not necessarily be accurate.)
As the second special project in 70 years after the war, we will hold a special screening of works depicting the lives of ordinary people after the war.
Black market, Bataya village, town, GHQ, war widow, mixed-race child, atomic bomb, repatriation ... How did people live and how were they portrayed the various incidents and problems that emerged during the post-war reconstruction period after World War II? In this milestone year, which is 70 years after the war, I would like you to see it again with your own eyes.
In addition, this screening is a collaborative project with the Japan Institute of the Moving Image and will be held as part of the script course class.
Screening work
A Dear Sir, His Majesty the Emperor (1964 / 1 hour 34 minutes / Shochiku Ofuna)
B Aa Koe Naki Tomo (1972 / 1 hour 45 minutes / Atsumi Pro / Shochiku)
C Bad Girl (1963/1 hour 54 minutes / Nikkatsu)
D The Heart of Hiroshima (1966 / 1 hour 32 minutes / Nikkatsu)
E Sequel, town with cupola Minors (1965/1 hour 39 minutes / Nikkatsu)
F Japanese Tragedy (1953 / 1 hour 56 minutes / Shochiku Ofuna)
G Women's Garden (1954/1 hour 44 minutes / Shochiku Ofuna)
H The Bright Day of My Life (1948/1 hour 41 minutes / Shochiku Ofuna)
I Return home (1964/1 hour 37 minutes / Nikkatsu)
[Screening date / time / talk schedule]


Start Day

2015-11-14

End Day

2015-11-20

Address

6-95 Chojamachi, Naka-ku, Yokohama-shi, Kanagawa

Ticket type / Fee

Old work uniform general 1000 yen university / professional student 1000 yen high school or younger / senior 1000 yen

Contact

Yokohama Cinemarine TEL 045-341-3180

URL