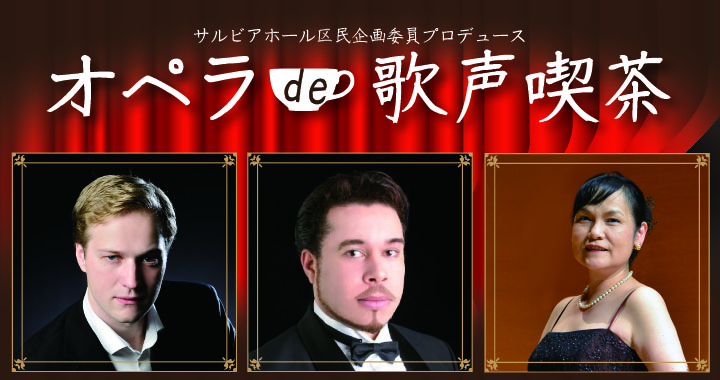 Opera de Utagoe Coffee (Produced by Salvia Hall, Tsurumi Planning Committee)
Tsurumi Ward Cultural Center Salvia Hall 4th Floor Hall 
(Please note that this page was created using Google's automatic translation service and understand that because of this, its translation may not necessarily be accurate.)
* What is a ward planning committee member?
We plan and plan events that will please Tsurumi Ward residents from the perspective of the residents, and voluntarily manage and implement them from the actual preparation stage to the day of the performance.
* What is Opera de Utagoe Coffee?
It is an opera concert where you can enjoy the atmosphere of a singing voice cafe where everyone can sing together and enjoy authentic opera songs together. Please enjoy the concert unique to Tsurumi by the residents of Tsurumi Ward.
Event Date

2016-02-28

Hour

14:00 start (13:30 open)

Address

1-31-2 Tsurumichuo, Tsurumi-ku, Yokohama-shi, Kanagawa Inside Sea Crane

Appearance

Roberto di Candido (Ten) Vitaly Yushmanov (Bar) Masako Tanaka (Sop / Guidance) Maimiko Kimura (Pf) Hisako Tsuruta (Moderator)

Ticket type / Fee

● General ¥ 1200 ● Special discount for residents (Tsurumi Ward limited discount) ¥ 1000 ● Salvia ticket (18 years old or younger, 65 years old or older, discount for people with disabilities) ¥ 1000

Ticket Info

● Salvia Hall window purchase window reception 9: 00-21: 00 ● Salvia Hall telephone reservation telephone reception 9: 00-22: 00 TEL 045-511-5711

Contact

Tsurumi Ward Cultural Center Salvia Hall 045-511-5711

URL