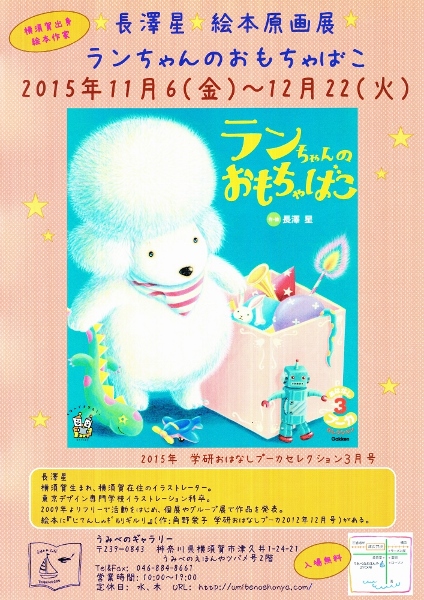 Art / photography
2015.11.02
Hoshi Nagasawa Picture Book Original Picture Exhibition "Ran-chan's Toy Bako"
Umibe Gallery (Umibe no Ehonya Swallow No. 2nd floor) 
(Please note that this page was created using Google's automatic translation service and understand that because of this, its translation may not necessarily be accurate.)
An exhibition of original picture books by Hoshi Nagasawa, an illustrator and picture book writer born in Yokosuka and living in Yokosuka!
The original picture exhibition by Hoshi Nagasawa is from the exhibition of the original picture book "Midnight Circus" in February 2014.
This is the second time. "Ran-chan's Toy Bako" is the story of the puppy Ran-chan, who also appeared in the previous "Midnight Circus". The interaction between Ran and the toys is depicted.
"Ran-chan's Toy Bako" 2015 Gakken Story Puka Selection March Issue
The original picture by Hoshi Nagasawa is very detailed and delicate. It's worth seeing. Please come to see the cute original picture
[Profile of Hoshi Nagasawa]
An illustrator born in Yokosuka and living in Yokosuka.
Graduated from the illustration department of Tokyo Design Academy.
Since 2009, he has been active as a freelancer and has exhibited his works in solo and group exhibitions.
There is "Jitensha Giruri Giruri" (written by Eiko Kadono, Gakken Story Puka, December 2012 issue) in the picture book.

[Related event]
Picture books and music LIVE
DRIED BONITO × Hoshi Nagasawa LIVE
Music LIVE & Storytelling & Live Painting
Date : November 22, 2015 (Sun) 16: 00-18: 00 Break
Price : (Advance reservation) 1000 yen + 300 yen (all-you-can-drink), (Same day) 1500 yen + 300 yen (all-you-can-drink) * Drinks are juice, coffee and tea.
* Free for elementary school students and younger. (300 yen for drinks)
* Please note that there are no meal orders during the event.
Capacity : 20 people Reservation application to Swallow 046-884-8661
Start Day

2015-11-06

End Day

2015-12-22

Hour

10: 00-19: 00 (Closed on Wednesdays and Thursdays)

Address

1-24-21 Tsukui, Yokosuka City, Kanagawa Prefecture Umibe no Ehonya Swallow

Ticket type / Fee

free

Contact

Umibe no Ehonya Swallow TEL 046-884-8661 MAIL ehon_tsubamegou@kkf.biglobe.ne.jp

URL