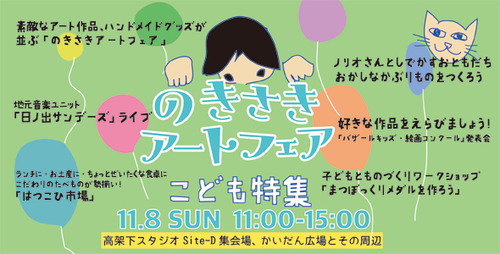 Nokisaki Art Fair
Under the elevated studio Site-D meeting place, Kaidan Square and its surroundings 
(Please note that this page was created using Google's automatic translation service and understand that because of this, its translation may not necessarily be accurate.)
What is Nokisaki Art Fair?
"Nokisaki Art Fair" is an art and food event held by artists, local shops, students, etc. in the Koganecho area on the second Sunday of every month. The Hatsukohi Market, which sells fresh vegetables sent directly from the production area and special lunches, and an art fair that displays and sells the works and goods of artists will be held. This time, "Children's Special"! Workshops for children, recitals of paintings drawn by children, and live music that parents and children can enjoy will also be held. Please come and visit Koganecho.
<Main events>
"Bazaar Kids Painting Contest"
During the "Koganecho Bazaar 2015", the paintings drawn by the children at the venue will be exhibited. Vote for your favorite work!
Norio-san and his big friend "Let's make a funny headgear !!"
This is a workshop to make fun and funny headgear using colorful gum tape and newspapers.
Workshop for making things with children "Let's make a pinecone medal"
Draw a picture on the pinecone frame and make your own medal! The medal can also be a badge!
"Nokisaki Art Fair"
An art fair where you can find unique goods and works that can only be bought here! Select products with plenty of individuality and handmade products by artists are lined up.
"Hatsukohi Market"
For lunch, souvenirs, a little luxurious dining table, and a selection of special foods! Shops loved by the locals and selected shops in Yokohama will open!
Live music event! "Hinode Sundays" will appear!
Hinode Sundays is a costume melody music troupe that haunts the Hinodecho area mainly on Sunday afternoons. A live concert will be held during the Nokisaki Art Fair.
Event Date

2015-11-08

Hour

11: 00-15: 00 * Depends on the event

Address

1-2 Koganecho, Naka-ku, Yokohama-shi, Kanagawa

Contact

Certified Specified Nonprofit Corporation Koganecho Area Management Center 2-158 Hinodecho, Naka-ku, Yokohama 231-0066 TEL: 045-261-5467 | Email: info@koganecho.net

URL