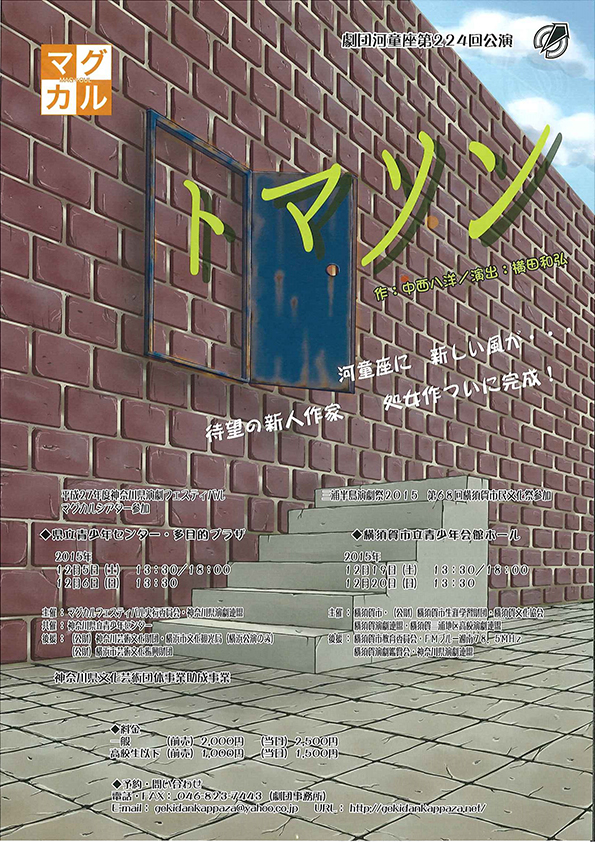 Theater / dance
2015.10.25
Theatrical company Kawadoza 224th performance "Tomasson"
Yokosuka City Youth Hall 
(Please note that this page was created using Google's automatic translation service and understand that because of this, its translation may not necessarily be accurate.)
Many Thomasons gathered in a warehouse People who settle in that warehouse People who are not homeless and want to be free from time and the monetary economy ...
The civilized society that attacks the utopia is a little mysterious, and the unexpected development is ...
Start Day

2015-12-19

End Day

2015-12-20

Hour

19th (Sat) 13: 30/18: 00 20th (Sun) 13:30

Address

37 Fukadadai, Yokosuka City, Kanagawa Prefecture

Appearance

Written by: Hachiyo Nakanishi Directed by Kazuhiro Yokota Starring Akiko Takashima, Kumiko Asaba, Chiori Takeda, Takehisa Chiba, Ami Saito, Naoko Shimo (Theatrical Company Pg), Sene Takahashi, Masatoshi Ishida, Maika Uchida (Theatrical Company Pg), Warm Iwanaga, Sato Risako, Mai Takeshita (Theatrical Company Pg), Maruka Nakamura, Anmi Kanazawa

Ticket type / Fee

General advance sale 2,000 yen (2,500 yen on the day) High school students and younger 1,000 yen advance sale (1,500 yen on the day)

Ticket Info

Theatrical company Kawadoza TEL / FAX: 046-823-7443 E-mail: gekidankappaza@yahoo.co.jp

Contact

Theatrical Company Kawadoza / Kanagawa Theater Federation TEL 046-823-7443 (Theatrical Company Kawadoza) / 080-5659-2757 (Kanagawa Theater Federation 9: 00-17: 00 Closed on Mondays) E-mail gekidankappaza@yahoo.co.jp

URL