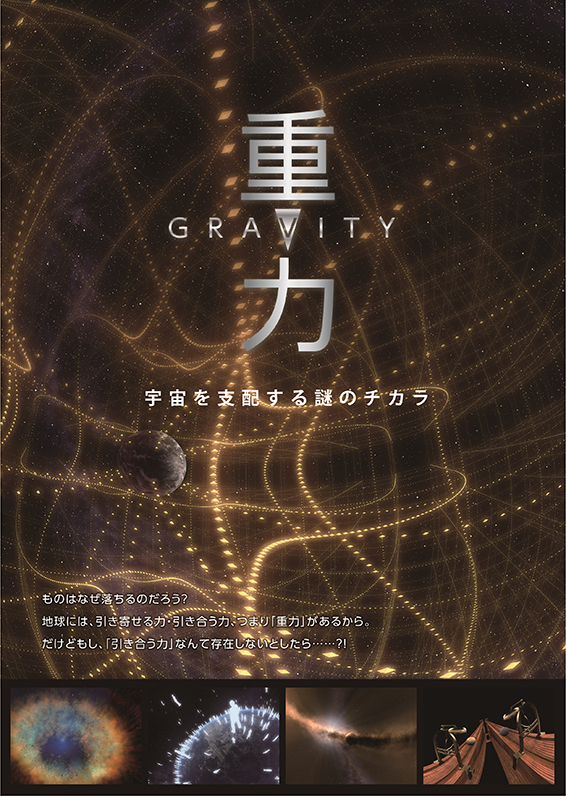 Space Theater (Planetarium) "Gravity-The Mysterious Power that Controls the Universe-"
Hamagin Space Science Center 1F Space Theater (Planetarium) 
(Please note that this page was created using Google's automatic translation service and understand that because of this, its translation may not necessarily be accurate.)
"Unravel the true identity of the" power "that controls the universe! 』\
"Why do things fall?" "Why does the earth keep orbiting the sun?" "Why do artificial satellites orbit the earth?" "Why are galaxies swirling?"
The keyword to solve these mysteries, the name of the power is "gravity".
The earth, the moon, the sun, and we all have a mysterious power. In fact, everything in the universe had one power! The power of "gravity" created this universe, created stars, and created us.
An easy-to-understand explanation of the true nature of gravity and how it works! (About 25 minutes)
The staff will also explain the starry sky for about 20 minutes.
Capacity: 268 people (including 3 wheelchair spaces)
Elephant: Anyone
Start Day

2015-11-01

End Day

2015-11-30

Hour

Weekdays 16: 00-Saturdays, Sundays, and holidays 10: 00- Approximately 45 minutes each time Closed: November 2nd (Monday), 16th (Monday)

Address

5-2-1 Yokodai, Isogo-ku, Yokohama-shi, Kanagawa

Ticket type / Fee

Adults 600 yen, 4 to junior high school students 300 yen (additional admission fee required) * Children under 3 years old will be charged if they use the seats.

Contact

Hamagin Space Science Center TEL 045-832-1166

URL