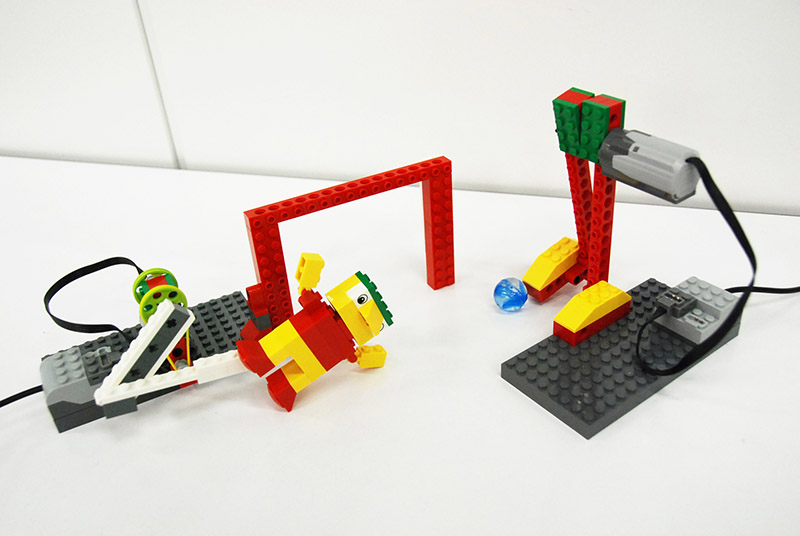 Robot classroom [Parent-child classroom] "First programming-using LEGO WeDo- (soccer)"
Hamagin Space Science Center 1F Classroom 
(Please note that this page was created using Google's automatic translation service and understand that because of this, its translation may not necessarily be accurate.)
Parents and children will learn programming and robot assembly while playing with colorful Lego. Together with parents and children (We), we will make a soccer robot that avoids the keeper and kicks (Do) aiming at the goal post brilliantly!
This classroom will be attended by parents and two people.
Capacity: 10 groups, 20 people Target: 1st grade to 2nd grade elementary school students and their guardians Application: Pre-apply using the "application form" on the website.
Please specify the following contents.
-------------------------------------------------- -------
1. Classroom name 2. Name (furigana) 3. Grade 4. Zip code 5. Address
6. Phone number 7. Email address
-------------------------------------------------- -------
Application period: Must arrive from October 27th (Tuesday) to November 27th (Friday)
Event Date

2015-12-12

Hour

13: 30-15: 00

Address

5-2-1 Yokodai, Isogo-ku, Yokohama-shi, Kanagawa

Ticket type / Fee

1,000 yen

Contact

Hamagin Space Science Center TEL 045-832-1166

URL