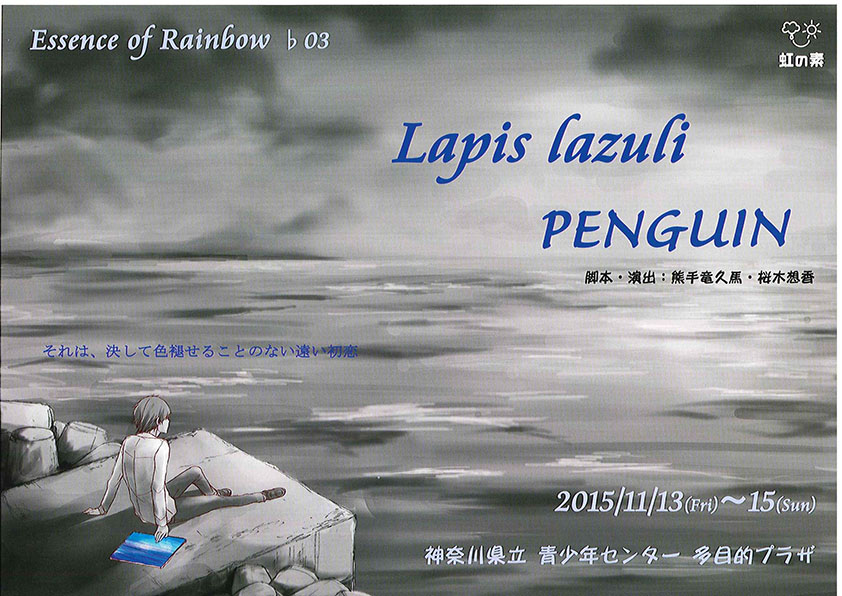 Theater / dance
2015.10.02
Participated in the Magcal Theater / Participated in the 2015 Kanagawa Theater Festival Niji no Moto ♭ 03 Performances "Lapis Lazuli" "PENGUIN"
Kanagawa Prefectural Youth Center Multipurpose Plaza 
(Please note that this page was created using Google's automatic translation service and understand that because of this, its translation may not necessarily be accurate.)
It's a distant first love that never fades.
I promised to get on the first train in the morning, get out of this seaside town, and live together.
A blue story that remains beautiful no matter how much time passes.
"Lapis lazuli" / Boys and girls are 34 years old. It was not true love, it was true love.
"PENGUIN" / Boys and girls were 17 years old. I believed that there was the word "eternity".
Start Day

2015-11-13

End Day

2015-11-15

Hour

13th (Fri) 17: 00- "Lapis lazuri" / 19: 00- "PENGUIN" 14th (Sat) 12: 00- "PENGUIN" / 14: 30- "Lapis Lazuri" / 18: 00- "Lapis lazuri" "PENGUIN" * Simultaneous performance 15th (Sun) 11: 30- "Lapis lazuri" / 14: 00- "PENGUIN" / 17: 00- "PENGUIN" "Lapis lazuri" * Simultaneous performance * Opening 20 minutes ago.

Address

9-1 Momijigaoka, Nishi-ku, Yokohama-shi, Kanagawa

Appearance

Screenplay / Direction: Ryuhisa Kumate / Soka Sakuragi Cast: Lapis lazuli: Shunsuke Sakai (Hoei TV Production), Yasuka Nakayama (Capsule Corps), Sho Fushimi, Tsumugi Sato, Shun Ikeya (Chireactors), Shion Koyamauchi, Yusuke Murakami, Uoyo Natsuko (Mitsuya Project), Go Hirata, Misato Ebana PENGUIN: Shunsuke Sakai (Hoei TV Production), Yasuka Nakayama (Capsule Corps), Sho Fushimi, Tsumugi Sato, Kenta Hokimoto, Kaori Kojima, Fumi Nishibori , Haruna Ueda, Go Hirata, Miki Yamaashi, Tomoki Mori (Theatrical Company Yokohama Ichiza), Takeshi Oyama

Ticket type / Fee

[Single work] General "Lapis lazuli": 2000 yen / General "PENGUIN": 1500 yen / High school students and younger: 1000 yen [Set ticket & simultaneous performance] General: 3000 yen / High school student and younger: 2000 yen You can watch PENGUIN and Lapis lazuri once each.

Ticket Info

https://ticket.corich.jp/apply/68377/002/

Contact

Niji no Moto MAIL nijino_moto@yahoo.co.jp

URL