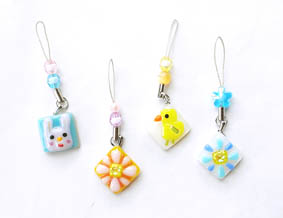 Experience workshop Silver Week special menu! Let's make it with glass fusing! Colorful strap
Kanagawa Prefectural Fujino Art House Studio 
(Please note that this page was created using Google's automatic translation service and understand that because of this, its translation may not necessarily be accurate.)
"Glass fusing" that heats and melts glass.
Both adults and children can enjoy it.
Since the glass is not cut, even small children can experience it with confidence.
Select the glass of your favorite color from the flat glass cut into 2 cm x 2 cm or 1 cm x 4 cm, stack two pieces, and freely place small cut glass, glass rod, dichroic glass, etc. , Temporarily fix with fusing glue.
Bake in an electric kiln for 10 minutes, cool for about 30 minutes, and attach the original strap parts to complete.
[Closed: Open if it overlaps with Tuesdays and public holidays, closed the next day]
Start Day

2015-09-19

End Day

2015-09-23

Hour

9: 00-17: 00

Address

4819 Magino, Midori-ku, Sagamihara City, Kanagawa Prefecture

Ticket type / Fee

◎ Participation fee 800 yen

Ticket Info

● Reception on the day Reception at any time between 9:00 and 12:00 and 13:00 and 15:00

Contact

4819 Magino, Midori-ku, Sagamihara Kanagawa Prefectural Fujino Art House TEL 042-689-3030

URL