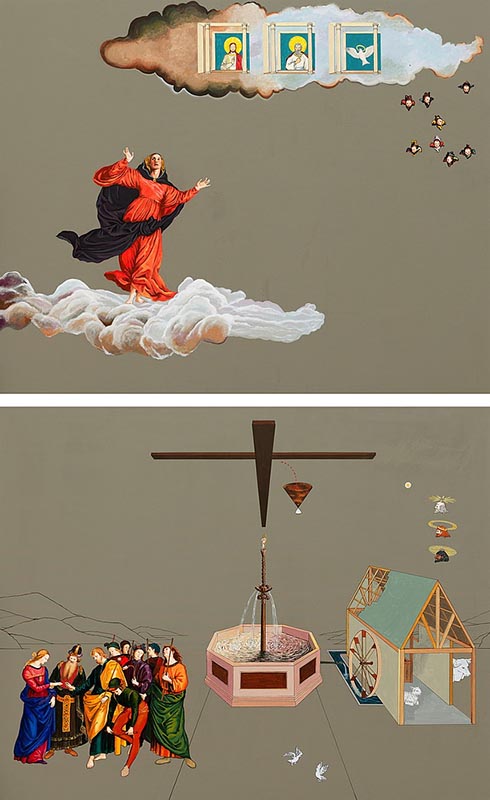 Art / photography
2015.07.23
Wakae Kanji ・ Deciphered "Large Glass" Exhibition A painting exhibition as an answer to the solution of the mystery of Sélavy's 100 years
Kasya no Mori Museum of Contemporary Art MUSEUM HAUS KASUYA 
(Please note that this page was created using Google's automatic translation service and understand that because of this, its translation may not necessarily be accurate.)
Wakae Kanji / Deciphered "Large Glass" Exhibition
The mystery of 100 years has been solved. Marcel Duchamp (1887-1968), the greatest mystery of the 20th century, "Even the bride stripped naked by her singles," commonly known as "Large Glass," was deciphered 100 years after its production. The work as the answer will be exhibited as an almost full-scale painting.
Duchan's "large glass" drawn on a thick glass consisting of two upper and lower tiers has been regarded as depicting the barren sexual love of the age of ream and mechanization until today, but when the mysterious iconography is analyzed again, it is Western. It is understood that it was a religious painting on glass with the theme of Christianity rooted in the tradition of art history.
As the gallerist Sidney Janis points out, the upper part depicts the scene of the Virgin Mary being called to the Kingdom of Heaven as "Assumption of the Virgin" by an abstract form, and the mysterious lower part is. The mysterious figure is perfectly arranged in perspective, and if so, the bottom is the story of Mary's fiancée selection and marriage, and the birth of Jesus on the entire glass surface. I think.
Duchan's "Large Glass" was re-evaluated by Duchan, who was regarded as the avant-garde emperor, and "Large Glass", which may be the two major elements of the theme principle of paintings represented by perspective and religious paintings that modern art invalidated. It was a masterpiece of Sélavy's astonishing religious paintings, which was revived by introducing the old-fashioned classical elements into the "large glass" by a novel and original method. This time, as an answer to the mystery of 100 years, I will exhibit the 200th masterpiece that was completed by reading and reconstructing all the images of "Large Glass" as possible original figures.
We hope that many people will see it during the exhibition period.
July 2015 Wakae Kanji
◆ Events during the session ◆
August 23 (Sun) 15: 00- Artist Talk (reservation required)
September 27 (Sun) 16: 00- Aki Takahashi / Piano Concert (Ticket reservation required)
[Closed: Every Monday and Tuesday]
Start Day

2015-08-05

End Day

2015-09-27

Hour

10: 00-18: 00 (Admission is until 17:30) * However, the viewing on the last day, September 27, will end at 13:00. * Opening reception August 9th (Sun) 15: 00-

Address

7-12-13 Hirasaku, Yokosuka City, Kanagawa Prefecture

Ticket type / Fee

General 600 yen, students 500 yen (elementary school students 300 yen)

Contact

Kasya no Mori Museum of Contemporary Art TEL 046-852-3030

URL