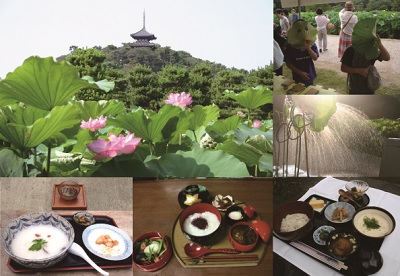 Sankein Early Morning Kanrenkai
Sankeien Gaien Lotus Pond 
(Please note that this page was created using Google's automatic translation service and understand that because of this, its translation may not necessarily be accurate.)
The lotus flower begins to open slowly at dawn and reaches its best time around 7 am. It starts closing again around 9 o'clock and closes completely around noon. It is likened to an excellent human resource who emerged from the world because it blooms pure flowers from the mud, and was called the saint's flower in India and the prince's flower in China. It is a flower that Sankein Hara, the founder of Sankein, especially liked.
In this season when the summer season is approaching, the park will open at 6 am and you will be familiar with the lotus.
■ Date
Saturdays, Sundays, and holidays from 7/18 (Sat) to 8/9 (Sun) ... 9 days

■ Lotus experience corner ○ Making masks with lotus leaves ○ Taking thread from lotus stems ○ Lotus leaf shower * Contents may change depending on the weather and flowering conditions.
* Small children are advised to wear sandals and change clothes so that they can get wet in the lotus shower.
■ Presents <br> From 8:00 in the morning, 20 people will be given seeds for cultivation by lottery. (With instructions on how to grow)
■ Limited menu of teahouses in the garden <br> Another fun of the early morning Kanrenkai, an early morning limited menu will be prepared at 3 teahouses in the garden this year as well.
The breakfast that you can enjoy while soaking in the afterglow of the lotus is exceptional.
○ Karigane Chaya (6: 00-9: 00)
Chinese style porridge 800 yen (with scallops, shiitake mushrooms, special porridge with chicken, dessert (Kuzukiri))
○ Sankeien Saryo (6: 00-9: 00)
Morning mayu set 1100 yen (red soup, hot spring eggs, Kishu umeboshi, water yokan, etc. are served in a colorful manner)
○ Taishunken (6: 00-9: 30)
Mugitoro rice 1000 yen (Yamato potato tororo, lotus kinpira, black honey agar, etc.)
■ Scope of viewing <br> During the period, the northwestern area of the lotus pond, where the triple tower can be seen over the lotus, will also be opened specially.
◆ Related project Naka-ku Picture Book Festival 2015 "Lotus Story"
8/9 (Sun) 11: 00 ~, 14: 00 ~ (about 30 minutes each time)
At Kakushoukaku, which is open to the public, we will mainly introduce the story of the appearance of lotus.
"Chujohime", "Summer morning", "Spider thread", etc. Participation fee: Free (admission fee only) Capacity: 30 people Cooperation: Megumi-za
Start Day

2015-07-25

End Day

2015-07-26

Hour

6:00 am to 8:30 am * The Sanki Memorial Hall and Gassho-zukuri will be open to the public from 9:00. * Other old buildings will remain closed until 9:00.

Address

58-1 Honmokusannotani, Naka-ku, Yokohama-shi, Kanagawa

Ticket type / Fee

Admission fee only (500 yen for adults, 200 yen for elementary school students) After the early morning Kanrenkai, you can enjoy the park as it is.

Contact

Sankeien TEL 045-621-0635

URL