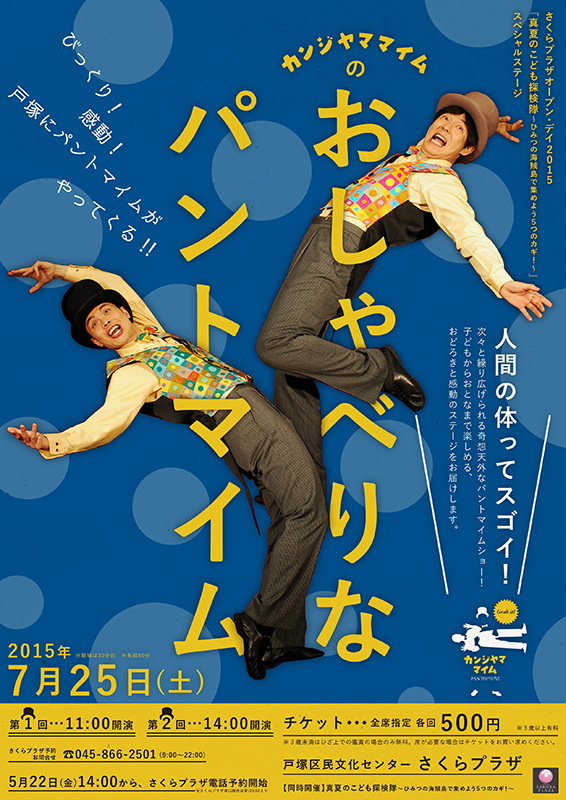 Theater / dance
2015.06.16
Sakura Plaza Open Day 2015 Special Stage "Kanjiyama Mime's" Talkative Pantomime ""
Totsuka Ward Cultural Center Sakura Plaza Hall 
(Please note that this page was created using Google's automatic translation service and understand that because of this, its translation may not necessarily be accurate.)
I was surprised! Impressed! Pantomime is coming to Totsuka! !!
"The human body is amazing!"
A fantastic pantomime show that unfolds one after another!
We will deliver a surprising and moving stage that can be enjoyed by children and adults alike.
Kanjiyama Mime attracts all kinds of customers.
With thoroughly trained physical arts as a tool, with sophisticated ideas and academic backing,
We are working day and night to convey the importance of "having a longing for life."
The current theme is the fusion of laughter and education.
We are developing a unique approach that applies physical arts to English education.
Choreography of NHK's "Okasan to Issho" body expression corner "Punt!"
In charge of guidance, currently broadcasting every day nationwide!
Event Date

2015-07-25

Hour

1st / 11: 00 start 2nd / 14: 00 start 30 minutes before each time Venue

Address

16-17 Totsuka-cho, Totsuka-ku, Yokohama-shi, Kanagawa 4F, Totsuka-ku General Government Building

Appearance

Kanjiyama Mime

Ticket type / Fee

Paid 500 yen for 3 years old and over (Free viewing on the lap under 3 years old. If you need a seat, please purchase a ticket,)

Ticket Info

Now on sale at Sakura Plaza! (TEL: 045-866-2501)

Contact

Totsuka Ward Cultural Center Sakura Plaza TEL 045-866-2501 MAIL event@totsuka.hall-info.jp

URL