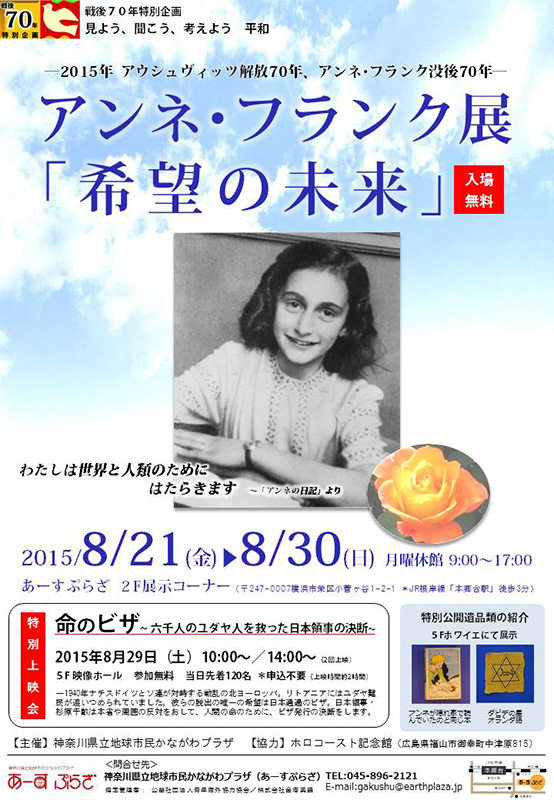 Art / photography
2015.06.16
Anne Frank Exhibition "Future of Hope"
Exhibition corner on the 2nd floor of Kanagawa Plaza for Global Citizens 
(Please note that this page was created using Google's automatic translation service and understand that because of this, its translation may not necessarily be accurate.)
"Anne's Diary" tells the story of the slaughter of 6 million Jews (Holocaust) by Nazi Germany as a tragedy in the 20th century. Since it was published in 1947, it has continued to appeal to humankind for peace without fading. Let's touch on the way of life of Anne Frank, who died at a young age, with abundant potential, and think together about the future peace entrusted to us.
■ Special public relics will be exhibited at the foyer on the 5th floor (free tour) ■
● Special Screening "Visa for Life: The Japanese Consul's Decision to Save 6,000 Jews"
August 29, 2015 (Sat) 10: 00 ~ / 14: 00 ~ 2nd screening 5F Video Hall Free participation on the day 120 people * No application required-1940 Nazi Germany and the Soviet Union confront the war-torn Northern Europe. Jewish refugees were being hunted down in Lithuania. Their only hope of escape is a visa to pass through Japan. Chiune Sugihara, the Japanese Consul, decides to issue a visa for human life through the opposition of the Ministry and others.
Start Day

2015-08-21

End Day

2015-08-30

Hour

9: 00-17: 00 * Closed on Mondays

Address

1-2-1 Kosugaya, Sakae-ku, Yokohama-shi, Kanagawa

Ticket type / Fee

Free admission

Contact

Tel: 045-896-2121 E-mail: gakushu@earthplaza.jp

URL