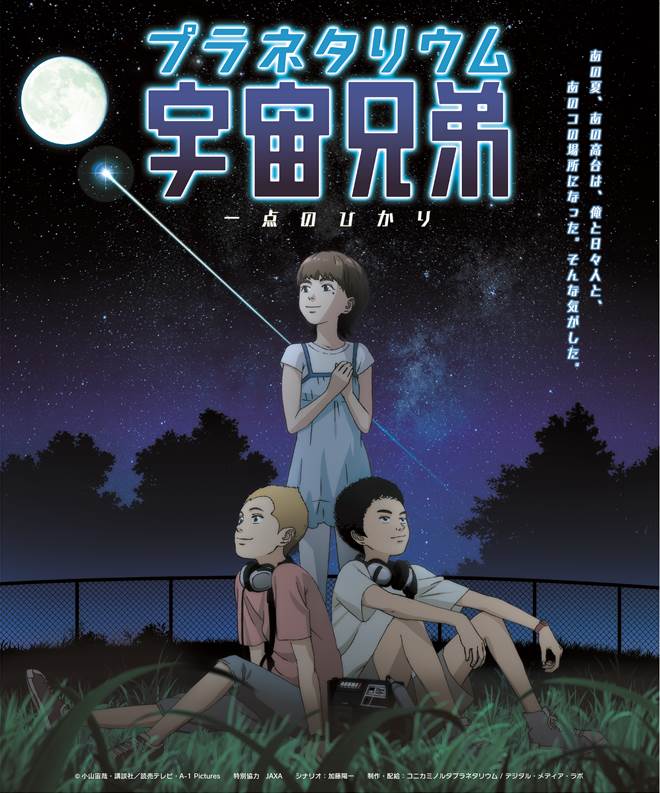 Space Theater (Planetarium) "Hikari of the Space Brothers"
Hamagin Space Science Center 1F Space Theater (Planetarium) 
(Please note that this page was created using Google's automatic translation service and understand that because of this, its translation may not necessarily be accurate.)
"You must always be ahead of your brother with your brother."
That summer I vowed to go to space.
The story of two people and that girl who broke through that hill.
As a boy, his younger brother, Hitohito, and his older brother, Rokuta, promised to go to space together. Ten years later, every day when people realized their dreams, people were in the limelight as astronauts, while Rokuta was unemployed. Meanwhile, Rokuta remembers the time when he promised people every day.
That summer, on a hill where they swore their dreams, the two who went looking for a UFO met a girl. The girl's "wish" becomes clear soon. Can people and Rokuta fulfill their wishes every day? ?? (About 29 minutes)
We will also explain the starry sky for about 16 minutes.
Capacity: 268 people (including 3 wheelchair spaces)
Elephant: Anyone
Start Day

2015-07-01

End Day

2015-07-31

Hour

・ July 1st (Wednesday) -13th (Monday) Weekdays 14: 45 ~, Saturdays, Sundays, and holidays 11: 15 ~ ・ July 18th (Sat) -31st (Friday) Every day 11: 15 ~, 15: 00 ~ Approximately 45 minutes each time Closed: Monday, July 6

Address

5-2-1 Yokodai, Isogo-ku, Yokohama-shi, Kanagawa

Ticket type / Fee

Adults 600 yen, 4 to junior high school students 300 yen (additional admission fee required) * Children under 3 years old will be charged if they use the seats.

Contact

Hamagin Space Science Center TEL 045-832-1166

URL