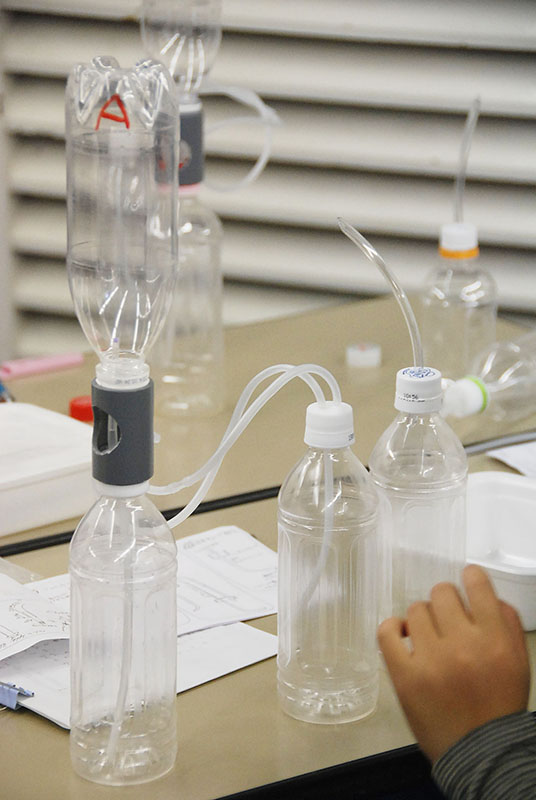 Summer vacation special project "A lot of crafts! Free study paradise 2015" Carefully! Experimental workshop
Hamagin Space Science Center 1F Conference Room 
(Please note that this page was created using Google's automatic translation service and understand that because of this, its translation may not necessarily be accurate.)
Learn about pressure, vibration, movement, etc. through experiments and crafts.
① "Heron's Fountain" Tuesday, August 4th
It is said that Heron, a scientist of the ancient Roman Empire about 2,000 years ago, invented a fountain that spouts water without using a pump, and takes it home with a PET bottle. You will learn how water pressure changes and how it is transmitted through experiments.
② "Gejigeji UFO" Wednesday, August 12
Observe and confirm the mystery that vibration changes to rotation and running. Make a gejigeji UFO that runs with the power of a battery-powered vibrator and take it home.
③ "Wind power vehicle" Tuesday, August 18
The force of the wind turns the blades, and the force is transmitted to the axles with pulleys and belts to turn the wheels, making a car that runs upwind and taking it home. Learn about force transmission, friction reduction, and more.
④ "Roller coaster" Tuesday, August 25
Through experiments such as falling balls and pendulums, you will learn how weights work and how roller coasters work. Make a course with a plastic wiring cover and take it home.
Capacity: 24 people each day Target: 4th grade and above Application method: Applications will be accepted from 10:00 on June 15th (Monday).
Apply in advance using the "application form" for each classroom on the website or the round-trip postcard (addressed to the Hamagin Space Science Center "○○○ (each classroom name)"). For round-trip postcards, please specify the following [Requirements].
[Requirements] —————————————————————————————————
(1) Classroom name (2) Desired date / time of participation (3) Participant's name / furigana / age (grade)
④Zip code / address ⑤Telephone number deadline: ①Wednesday, July 15 ②Wednesday, July 22 ③Tuesday, July 28 ④Tuesday, August 4 (must arrive each day)
* If there are many applications, it will be a lottery.
* "Winning notification" is required to participate.
* The lottery results will be notified by email or postcard within 5 days after the deadline, regardless of whether the prize was won or not. If you do not receive the notification by the day before, please call us.
* If you applied from the website and have received the specified domain of your e-mail address, please cancel the domain of "@ yokohama-kagakukan.jp". I can't receive emails from hereApplications made with the wrong address will be invalid.
* If you do not fill in the required items, your application will be invalid.
* Applications for filling in a round-trip postcard with a disappearing ballpoint pen will be invalid.
Event Date

2015-08-18

Hour

③ "Wind power car" 10: 00-12: 00 Approximately 2 hours each

Address

5-2-1 Yokodai, Isogo-ku, Yokohama-shi, Kanagawa

Ticket type / Fee

①700 yen ②600 yen ③800 yen ④1,000 yen (admission fee not included)

Contact

Hamagin Space Science Center TEL 045-832-1166

URL