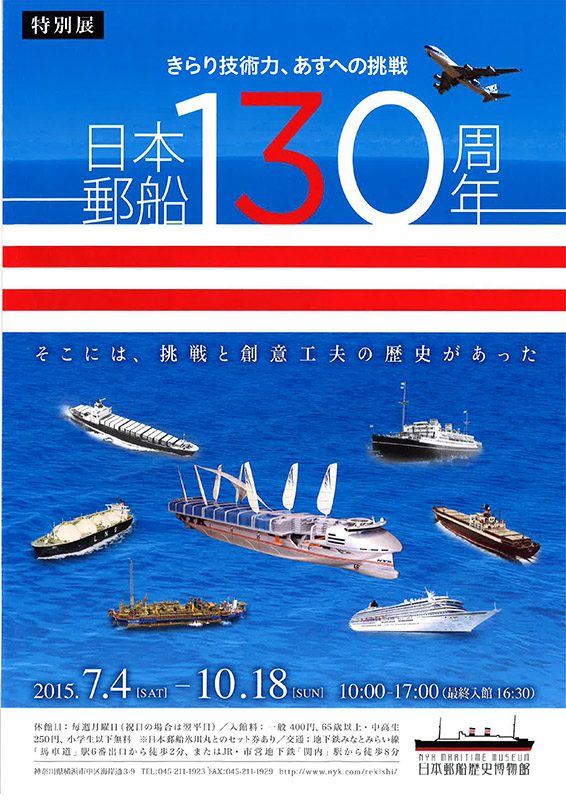 Art / photography
2015.05.27
NYK 130th Anniversary Special Exhibition "Kirari Technology, Challenge to Tomorrow"
NYK Maritime Museum 
(Please note that this page was created using Google's automatic translation service and understand that because of this, its translation may not necessarily be accurate.)
NYK will celebrate its 130th anniversary on October 1, this year. Nippon Yusen, which launched in 1885, when the modernization of Japan began, has grown into one of the world's leading shipping companies. Now, in addition to developing a futuristic eco-ship that is kind to the global environment, we are taking on the challenge of the unknown world by not only carrying things but also focusing on the development of marine resources. In this special exhibition, the past 130 years and future future of Nippon Yusen will be divided into four themes: (1) history, (2) ships, (3) sea, and (4) technology, and will be explained in an easy-to-understand manner through panels, models, and videos. In addition, on the huge shining panel "Rainbow Display" installed in the center of the venue, we will introduce the main routes including the international regular route that NYK first opened with a world map and a route map. In addition, you can see the actual shipbuilding steel materials used in ships so that you can see them in your hands, and you can directly touch on the evolution of technology.
≪Special exhibition related events≫
■ Lecture "Current Situation and Prospects of the NSR"
Date and time: Saturday, July 25, 14: 00-15: 30
Venue: NYK Maritime Museum Orientation Room Lecturer: Mr. Hiroyuki Goda (Nippon Yusen Co., Ltd. Public Relations Group Researcher)
Fees: Admission fee only (not eligible for various discounts)
■ Lecture "Marine technology utilized in ocean observation"
Date and time: Saturday, August 22nd, 14: 00-15: 30
Venue: NYK Maritime Museum Orientation Room Lecturer: Mr. Masaharu Akamine (former captain of NYK Maritime Museum)
Fees: Admission fee only (not eligible for various discounts)
■ Lecture "Past, Present, Future of Ships"
Date and time: Saturday, September 26, 14: 00-15: 30
Venue: NYK Maritime Museum Orientation Room Lecturer: Mr. Kenkichi Tamura (National Maritime Research Institute Research Supervisor)
Fees: Admission fee only (not eligible for various discounts)
Start Day

2015-07-04

End Day

2015-10-18

Hour

10: 00-17: 00 (Last admission: 16:30) Closed: Monday (If it is a national holiday, the next weekday)

Address

3-9 Kaigandori, Naka-ku, Yokohama-shi, Kanagawa

Ticket type / Fee

General / ¥ 400, 65 years old and over / Junior high and high school students / ¥ 250, Elementary school students and younger / Free

Contact

045-211-1923 (main)

URL