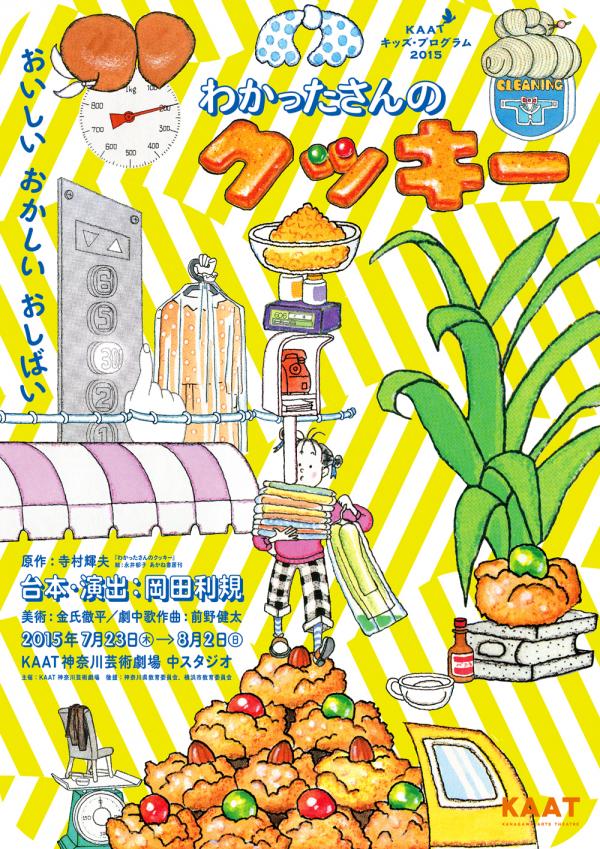 Theater / dance
2015.05.12
Delicious funny cookie "Understood cookie"
KAAT Kanagawa Arts Theater Middle Studio 
(Please note that this page was created using Google's automatic translation service and understand that because of this, its translation may not necessarily be accurate.)
KAAT Kids Program 2015
Oshibai is the power of magic.
A mysterious and fun story using magic
"Understood cookie" will be a delicious and funny cookie.
Script / Director: Toshiki Okada Original: Teruo Teramura ("Understood's Cookie" / published by Akane Shobo)
Art: Teppei Kaneuji (Contemporary Artist)
Song composition in the play: Kenta Maeno (singer-songwriter)
Start Day

2015-07-23

End Day

2015-08-02

Hour

7.23 (Thursday) 13:30 7.24 (Friday) 13:30 7.25 (Saturday) 11:00 / 14:30 Charter 7.26 (Sunday) 11:00 / 14:30 7.27 (Monday) Canceled 7.28 (Tuesday) 13:30 7.29 (Wednesday) 13: 30/18: 00 7.30 (Thursday) 13:30 7.31 (Friday) 13:30 8.1 (Saturday) 11: 00/14: 30 8.2 (Sunday) 11: 00/14: 30

Address

281 Yamashita-cho, Naka-ku, Yokohama-shi, Kanagawa

Appearance

Ayana Shiibashi, Ryuta Furuya, Lucino Yamazaki, Izumi Kasagi, Sachiko Sasaki

Ticket type / Fee

(All seats are free, including tax) Adults 3,000 yen Children (4 years old to high school students) 1,000 yen Men (1 adult + 1 child) 3,500 yen

Ticket Info

▼ Ticket Kanagawa http://u222u.info/kUfE 0570-015-415 ▼ Ticket Pia http://pia.jp/t/kaat/ (common to PC and MB) 0570-02-9999 (P code 443-588) ▼ e + (eplus) http://eplus.jp/kaat/ (PC / mobile) ▼ Lawson Ticket http://l-tike.com/ 0570-084-003 (L code 32094) ▼ tvk ticket counter http: / /www.tvkcom.net/

Contact

KAAT Kanagawa Arts Theater TEL: 045-633-6500 (10: 00-19: 00)

URL