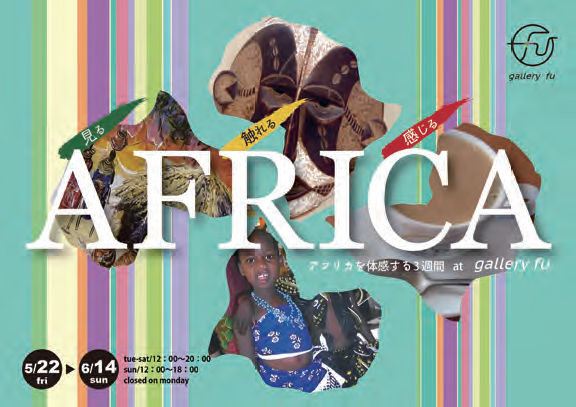 Art / photography
2015.04.28
"See, touch, feel AFRICA"
gallery fu 
(Please note that this page was created using Google's automatic translation service and understand that because of this, its translation may not necessarily be accurate.)
* Closed on Mondays
African art that influenced modern artists such as Picasso, Black, Matisse and Modigliani. At gallery fu, African masks, statues, paintings (Kisumasai) and textiles will be exhibited. In addition, it is a three-week period where you can "see and touch" African art and "feel" Africa through programs such as a Kanga dressing experience and an African seminar where you can use your imagination from Kimono paintings.
[Related event]
Saturday, May 23, 14: 00-16: 00
Let's wear the cloth "Kanga" that East Africa insists on! & I will teach you how to put chai deliciously!
Participation fee: 1500 yen / person (with chai) Capacity: 10 people
May 24th (Sun) 14: 00-15: 30
Challenge with parent and child! Kanga winding experience! Cute Kanga handkerchief with souvenir Participation fee: 1500 yen / parent and child pair (2 people) Fee Capacity: 10 pairs
June 7th (Sun) 14: 00-15: 00
Dialogue with Kismasai Painting-Let's do it, Africa-
Participation fee: Free Capacity 15 people (1 drink order at the cafe.)
Start Day

2015-05-22

End Day

2015-06-14

Hour

Tue-Sat / 12: 00-20: 00 Sun / 12: 00-18: 00 * Closed on Mondays

Address

1-31-9 Ishikawa-cho, Naka-ku, Yokohama-shi, Kanagawa

Contact

Tel: 070-6429-8597

URL