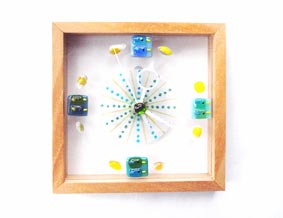 Early summer experience workshop Limited time menu Let's make with glass fusing! Glitter accessories & frame clocks
Kanagawa Prefectural Fujino Art House Studio 
(Please note that this page was created using Google's automatic translation service and understand that because of this, its translation may not necessarily be accurate.)
"Glass fusing" that heats and melts glass. Both adults and children can enjoy it.
"Accessories" are designed based on 2 cm x 4 cm flat glass, with small pieces of glass, bar glass, dichroic glass, etc. placed on it.
The "frame clock" is completed by creating four 2 cm x 2 cm fusing works, pasting them on the base acrylic plate in combination with original nuggets, rhinestones, beads, etc., and assembling a wooden plate. It can be used as both a table clock and a wall clock.
[Closed: Open if it overlaps with Tuesdays and public holidays, closed the next day]
Start Day

2015-05-23

End Day

2015-07-06

Hour

9: 00-17: 00

Address

4819 Magino, Midori-ku, Sagamihara City, Kanagawa Prefecture

Ticket type / Fee

◎ Participation fee ・ Strap, key chain, hair elastic, brooch, earphone jack parts 800 yen each ・ Necklace 1,000 yen ・ Frame clock 2,800 yen

Ticket Info

● Reception on the day Reception at any time between 9:00 and 12:00 and 13:00 and 15:00

Contact

4819 Magino, Midori-ku, Sagamihara Kanagawa Prefectural Fujino Art House TEL 042-689-3030

URL