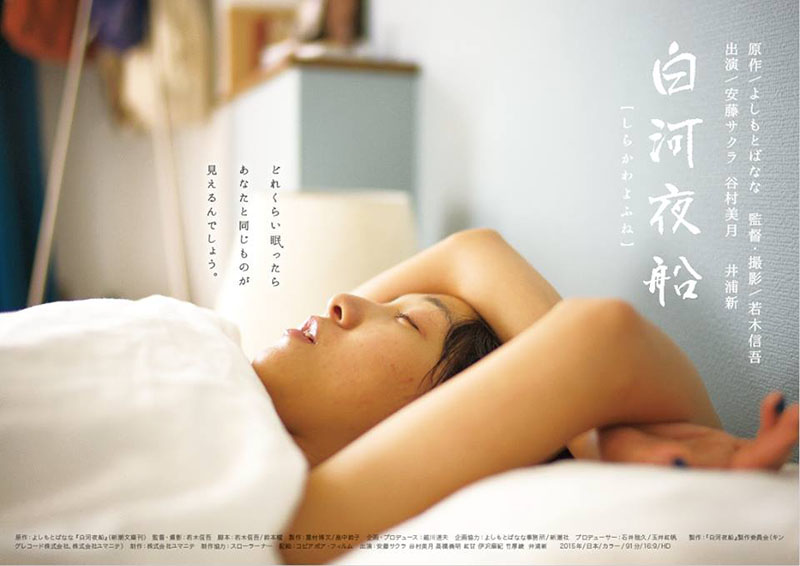 be fast asleep
Cinema Jack & Betty 
(Please note that this page was created using Google's automatic translation service and understand that because of this, its translation may not necessarily be accurate.)
How long do you sleep before you can see the same thing as you? Banana Yoshimoto's masterpiece is finally made into a movie!

The world where the past / present intersects strangely is fascinated by the dazzling images and the quiet acting of talented actors.
Sakura Ando, the actress who is currently attracting the most attention, will play the role of the heroine Terako. He won numerous actress awards for "Ai no Mukidashi" (08), "Kenta, Jun, and Kayo-chan no Kuni" (10), and "Kazoku no Kuni" (12). (Director Momoko Ando) "100 Yen Love" (Director Masaharu Take) won the Blue Ribbon Award for Best Actress, Japan Academy Award for Best Actress, Mainichi Film Award for Best Actress, and Kinema Shunho Best Ten Best Actress .. In this work, a life-sized woman who suffers from the death of her best friend and the relationship with her lover is played naturally, and her new charm is demonstrated.
Arata Iura, a leading individual actor in the Japanese film industry, plays the role of Terago's lover, Iwanaga. The re-tagging with Sakura Ando, which became a hot topic in the co-starring of "Our Homeland", attracts a lot of attention. Terago's best friend bookmark is a young acting actress, Mitsuki Tanimura ("Sketches of Kaitan City (10)). In addition, the second daughter of cartoonist Shungicu Uchida, Guama, plays a girl who is also the illusion of Iwanaga's wife, won the Grand Prix at the "2011 Men's Non-no Exclusive Model Audition", and is still active as an exclusive model in the magazine Yoshiaki Takahashi. However, he made his movie debut as a former lover of Shiori. Directed and photographed by Shingo Wakagi, who is known as an up-and-coming photographer, and Banana Yoshimoto, the original author, have completed a work called "miracle."
https://www.youtube.com/watch?feature=player_embedded&v=MKH700Q0ZI0
Official site: http://shirakawayofune.com/
[Stage greeting]
After the screening at 12:05 on 4/25 (Sat.), there will be a stage greeting on the first day [Scheduled to be on stage] Sakura Ando, Director Shingo Wakagi
Start Day

2015-04-25

End Day

2015-05-08

Hour

April 25th (Sat) -May 01 (Fri) 12: 05-13: 45 19: 00-20: 30 [Late] May 02 (Sat) -May 08 (Fri) 09:50 ~ 11:25 20:55 ~ 22:35 [Late] * 4/25 ~ End date undecided Please contact the theater after 5/9 (Sat).

Address

3-51 Wakabacho, Naka-ku, Yokohama-shi, Kanagawa

Appearance

[Director] Shingo Wakagi [Cast] Sakura Ando, Arata Iura, Mitsuki Tanimura, Yoshiaki Takahashi, Guama

Ticket type / Fee

General ¥ 1,800 College ¥ 1,500 High school or younger / Senior ¥ 1,000 * Member discount available [Late] times late show discount General ¥ 1,500 College ¥ 1,200 High school or younger / Senior ¥ 1,000 * Member discount available

Ticket Info

<Pre-sale of stage greeting tickets> The tickets will be sold at the theater window after the theater opens on Saturday, April 18th.・ Customers with advance tickets can also redeem the stage greeting tickets after the theater opens on Saturday, April 18th.・ Advance ticket 1400 yen will continue to be sold. After 4/18 (Sat), you can purchase advance tickets and redeem them for stage greeting tickets.・ If the tickets are sold out in advance, the tickets will not be sold on the day.・ Because of the special screening, free viewing with point cards, invitation tickets, etc. is not available.・ No refunds will be given after purchase.・ On the day of the event, you will be admitted in the order in which the tickets are issued. Seats are unreserved. Please come to the theater 20 minutes before the screening on the day. If you are late, you may be asked to enter the number later.

Contact

Cinema Jack & Betty TEL 045-243-9800 (9: 30-21: 00) MAIL info@jackandbetty.net (24 hours reception)

URL