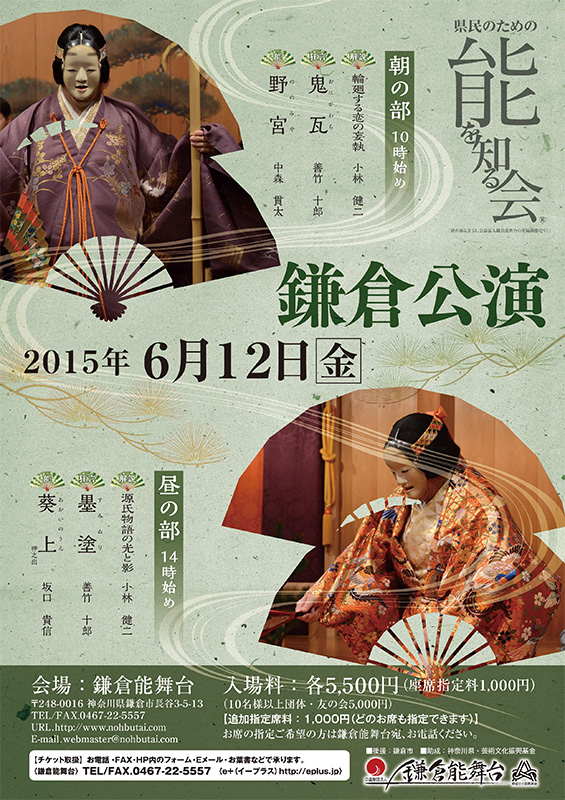 traditional culture
2015.03.29
Kamakura performance for the citizens of the prefecture ・ Commentary "Revolving love delusion" ・ Kyogen "Onigawara" ・ Noh "Nomiya" ・ Q & A
Kamakura Noh Stage 
(Please note that this page was created using Google's automatic translation service and understand that because of this, its translation may not necessarily be accurate.)
This is a planned performance with the theme of "Car battle at Kamo Matsuri" in the "Genji Monogatari and Noh" series. "Nomiya", a mysterious picture of Lady Rokujo, who can't give up her love for Hikaru Genji, and Aoi no Ue, who robbed Hikaru Genji, became a living spirit. "Aoi no Ue" is a violent depiction of Lady Rokujo trying to kill the top. Both are popular songs that represent Noh.
"Nomiya" Synopsis A masterpiece of autumn based on the story of The Tale of Genji.
The ghost of Lady Rokujo appears in front of the traveling priest who stopped by the historic site of Nomiya, shows the story of the encounter with Mr. Hikaru Genji and the car battle with Aoi no Ue, and disappears in the observatory car.
Wabi-sabi is the third big song that suits the words loneliness best.
Event Date

2015-06-12

Hour

10:00 start (9:30 open)

Address

3-5-13 Hase, Kamakura City, Kanagawa Prefecture

Appearance

Commentary: Kenji Kobayashi ... Professor, Research Department, National Institute of Japanese Literature Kyogen: Juro Zentake, Tomitaro Zentake, Daijiro Zentake Musicians: Hirokazu Kakihara Seiichi Iida Shintaro Sugi Waki: Hideshi Mori Tsunehisa Hideshi Nakamori Takanobu Tsuneji Okugawa Keigo Suzuki Yoshihisa Endo Hideaki Kojima Jiro Sakuma Takashi Kuwata Mitsuru Nagashima Kennosuke Nakamori Q & A: Kyogen Nakamori ...

Ticket type / Fee

All seats unreserved seats 5,500 yen Seat reservation fee ... 1,000 yen (You can specify your favorite seats) ◎ Tomo no Kai ・ Group of 10 or more people 5,000 yen

Ticket Info

● Kamakura Nohbutai TEL / FAX 0467-22-5557 (Telephone / Fax / HP form / postcard etc.) WEB http://www.nohbutai.com/ticket/ ● Eplus http://eplus. jp / sys / T1U37P0422480150

Contact

Kamakura Nohbutai TEL / FAX 0467-22-5557

URL