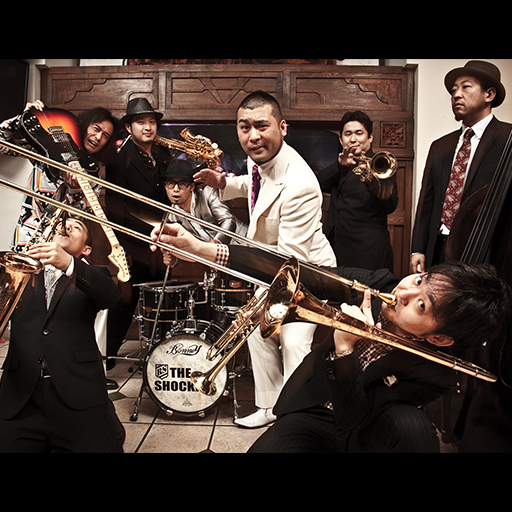 The Shocking Westroad Wild Swing! !! Tour final! !!
MOTION BLUE YOKOHAMA 
(Please note that this page was created using Google's automatic translation service and understand that because of this, its translation may not necessarily be accurate.)
A spring tour final by a popular band on stage with a hunger that only those who see it can understand!
"The Shocking" was formed by vocalist Masaru Suwon under the theme of "Big band sound with the scent of Showa", and is a veteran band that has been formed for more than 10 years after several band name changes. The messy stage performed by seven adults has been supported by a wide range of music fans due to its high entertainment value and performance quality centered on jazz. They released an album that tributed to Louis Armstrong in 2013 and Frank Sinatra last year, further expanding the range of variety. This time, which will be the first appearance in Motion Blue Yokohama, he will decorate the big bird of his own "Westroad Wild Swing Tour" in Yokohama. Not to mention the music, it will surely make you smile on the stage of hunger with MC and performance.
Event Date

2015-03-20

Hour

open_6:00pm / showtime_7: 30pm * Only one stage will be performed. * The length of the stage is planned to be about 120 minutes. * There will be a 30-minute break between the stages.

Address

1-1-2 Shinko, Naka-ku, Yokohama-shi, Kanagawa Yokohama Red Brick Warehouse No. 2 3F

Appearance

The Shocking: Masaru Suwon (vocals, leader), Minato Iwakawa (b), Ryo Sakuma (ds), Jiro Nagano (ts), Shinji Ide (as), Toru Ueishi (tp), Naofumi Takimoto (tb) Support Member: Takeshi Mikami (g), Fuming (p, key)

Ticket type / Fee

Unreserved seats ¥ 4,500 (tax included) BOX seats ¥ 18,000 + seat charge ¥ 4,000 (up to 4 people)

Ticket Info

○ Telephone reservation 045-226-1919 (11: 00a.m --10: 00p.m) ○ WEB reservation https://reserve.motionblue.co.jp/reserve/schedule/show_event_info/606/#606

Contact

Motion Blue Yokohama 045-226-1919 (11: 00a.m --10: 00p.m)

URL