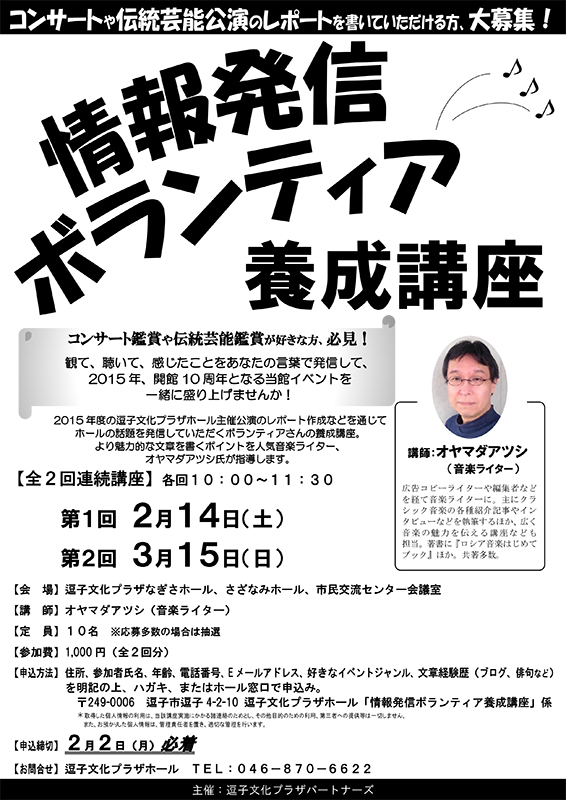 Information dissemination volunteer training course (2 consecutive courses in total)
Zushi Cultural Plaza Nagisa Hall, Sazanami Hall, Citizens' Exchange Center Meeting Room 
(Please note that this page was created using Google's automatic translation service and understand that because of this, its translation may not necessarily be accurate.)
A must-see for those who like concerts and watching traditional performing arts!
Let's liven up the hall event together by creating a performance report!
Volunteer training course to write a performance report of the project sponsored by Zushi Bunka Plaza Hall in 2015, which is the 10th anniversary of the opening of the museum.
Atsushi Oyamada, a popular music writer, will teach you how to write more attractive sentences.
All 2 consecutive lectures 1st February 14th (Sat)
2nd March 15th (Sun)
Event Date

2015-02-14

Hour

Each time from 10:00 to 11:30

Address

4-2-10 Zushi, Zushi City, Kanagawa Prefecture Zushi Culture Plaza Hall

Appearance

Lecturer Atsushi Oyamada (music writer)

Ticket type / Fee

1,000 yen (2 times in total)

Ticket Info

■ How to apply Apply at the postcard or the hall window after clearly stating your address, participant name, age, phone number, e-mail address, favorite event genre, and writing experience (blog, haiku, etc.). 4-2-10 Zushi, Zushi-shi, 249-0006 Zushi Bunka Plaza Hall "Information Dissemination Volunteer Training Course" Section ■ Application deadline Must arrive on February 2 (Monday) * The use of the acquired personal information is related to the implementation of the course. It is for contact purposes, and will not be used for any other purpose or provided to a third party. In addition, we will appoint a person in charge of management of the personal information we receive and manage it appropriately.

Contact

Zushi Bunka Plaza Hall TEL 046-870-6622

URL