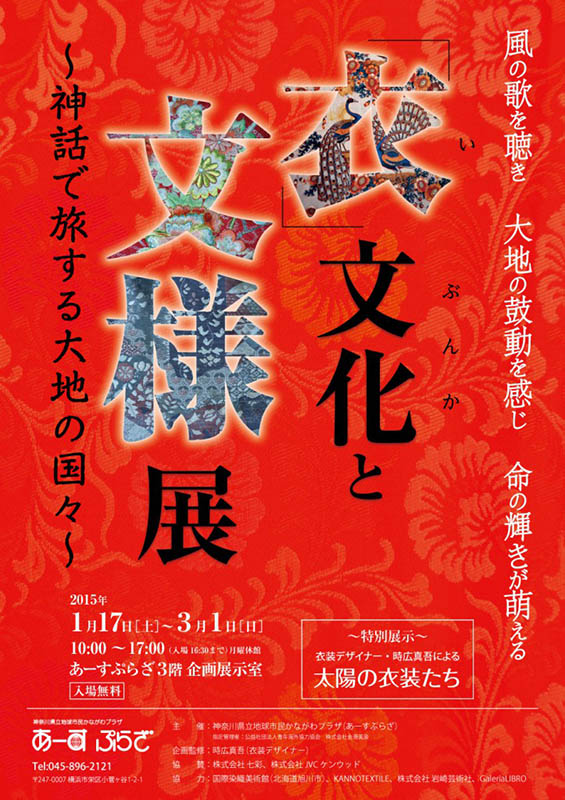 音楽 Theater / dance
2014.12.07
"Clothing" Culture and Pattern Exhibition "Opening Show"
Kanagawa Prefectural Global Citizen Kanagawa Plaza (Ausplaza) Special Exhibition Room (3F) 
(Please note that this page was created using Google's automatic translation service and understand that because of this, its translation may not necessarily be accurate.)

"Clothing" Culture and Pattern Exhibition-Countries of the Earth Traveling in Mythology- "Opening Show"
A stage performance that attracts vocalists, jazz dancers, Indian dancers, and Tahitian dancers, wearing folk costumes and sun mythical costumes.
* For the convenience of the venue, viewing may be restricted if there are a large number of people.
Event Date

2015-01-25

Hour

14: 00 ~ 15: 00

Address

1-2-1 Kosugaya, Sakae-ku, Yokohama-shi, Kanagawa

Appearance

■ Miho Haga Vocalist Graduated from the Department of Vocal Music, Faculty of Music, Tokyo University of the Arts. Completed the master's course solo course at the same graduate school, the Milan Conservatory, and the Nikikai Opera Studio. Passed the NHK Western music rookie audition. ■ Mitsue Wakabayashi Received the first prize twice in the national jazz dancer competition. 6th in the jazz dance world competition and Hayabusa Grand Prix in the modern dance international choreography contest. ■ Kyoko Nobi Indian Dancer Indian Dance School President of Contemporary Natiyam Company, part-time lecturer at Senzoku Gakuen College of Music. ■ Shiho Takahashi & Hula & Tahitian Dance Studio "Ka pa hula o Kealaokapikake & Vaea Tahiti" Shiho Takahashi: 2009 Solo Vahine 2nd Division & Solo All Division Overall Winner

Ticket type / Fee

free

Ticket Info

Application: Not required

Contact

TEL: 045-896-2121 E-mail: gakushu ■ earthplaza.jp (Please change ■ to @.)

URL