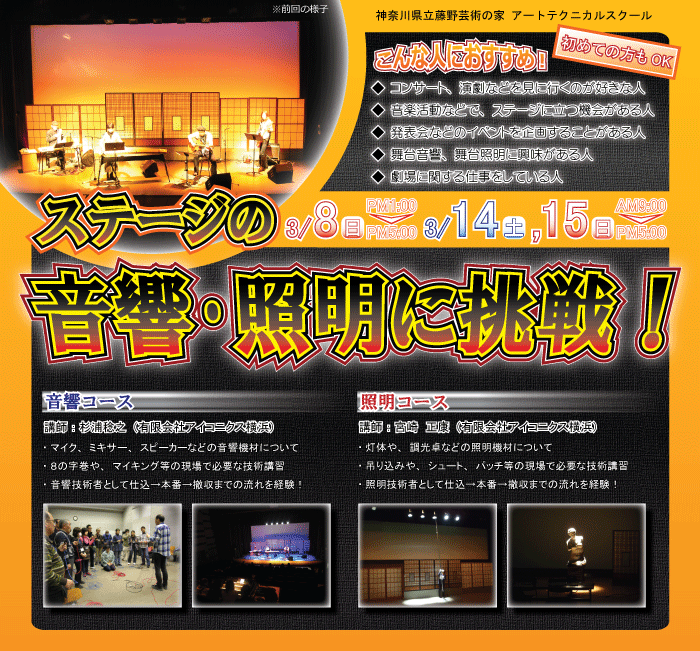 Challenge the sound and lighting of the stage!
Kanagawa Prefectural Fujino Art House Creation Hall, Studio 
(Please note that this page was created using Google's automatic translation service and understand that because of this, its translation may not necessarily be accurate.)
Experience behind the scenes (stage sound and stage lighting) that you don't usually have a chance to touch!
After learning the basics of stage sound and stage lighting, on the final day, we will be in charge of sound and lighting for a mini concert sponsored by Fujino Art House, and will experience the charm of the stage from a different angle for a total of three days.
Sound and lighting professionals who are active on the front lines will firmly support you, so even beginners can participate with confidence.
[Date] March 8th (Sun), March 14th (Sat), March 15th (Sun)
The deadline for application is February 22nd
Event Date

2015-03-08

Hour

March 8th (Sun) 13: 00-17: 00 March 14th (Sat) 9: 00-17: 00 March 15th (Sun) 9: 00-17: 00

Address

4819 Magino, Midori-ku, Sagamihara City, Kanagawa Prefecture

Ticket type / Fee

◎ Participation fee 3,000 yen ◎ Capacity 10 people for acoustic course 10 people for lighting course Beginners and experienced people of high school and above

Ticket Info

● Make a reservation by phone or at the counter by February 22. If there are many applicants, a lottery will be held. TEL 042-689-3030 (Kanagawa Prefectural Fujino Art House)

Contact

Kanagawa Prefectural Fujino Art House 4819 Magino, Midori-ku, Sagamihara TEL 042-689-3030

URL