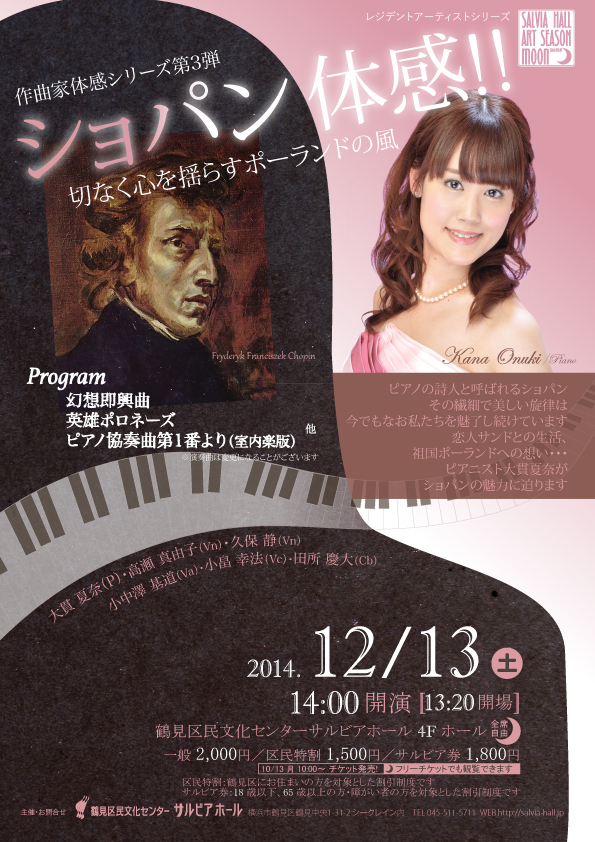 Resident Artist Series Chopin Experience !!
Tsurumi Ward Cultural Center Salvia Hall 4th Floor Hall 
(Please note that this page was created using Google's automatic translation service and understand that because of this, its translation may not necessarily be accurate.)
"Composer experience series" that focuses on one composer. This time, resident artist Natsuna Onuki approaches the charm of the piano poet Chopin.
Event Date

2014-12-13

Hour

14:00 start (13:20 open)

Address

1-31-2 Tsurumichuo, Tsurumi-ku, Yokohama-shi, Kanagawa Inside Sea Crane

Appearance

Natsuna Onuki (Piano Salvia Hall Resident Artist) Mayuko Takase (Violin) Shizuka Kubo (Violin) Motomichi Konakazawa (Viola) Koho Kobata (Cello) Keio Tadokoro (Contrabass)

Ticket type / Fee

● General ¥ 2000 ● Special discount for residents (Tsurumi Ward limited discount) ¥ 1500 ● Salvia ticket (18 years old or younger, 65 years old or older, discount for people with disabilities) ¥ 1800 * Free ticket target performance → http: // salvia-hall. jp / free

Ticket Info

● Salvia Hall Counter Reception 9: 00-21: 00 ● Salvia Hall Telephone Reservation Telephone Reception 9: 00-22: 00 TEL 045-511-5711 ● Salvia Hall Online Ticket Service http: // salvia-hall.jp/chopin ● Confetti Ticket Center 0120-240-540 (Reception hours weekdays 10: 00-18: 00)

Contact

Tsurumi Ward Cultural Center Salvia Hall 045-511-5711

URL